Frequently Asked Questions
The Referrals section can be accessed on the top-right corner of your Unicommerce panel and clicking on the section called "Referrals".
How to access Referrals page?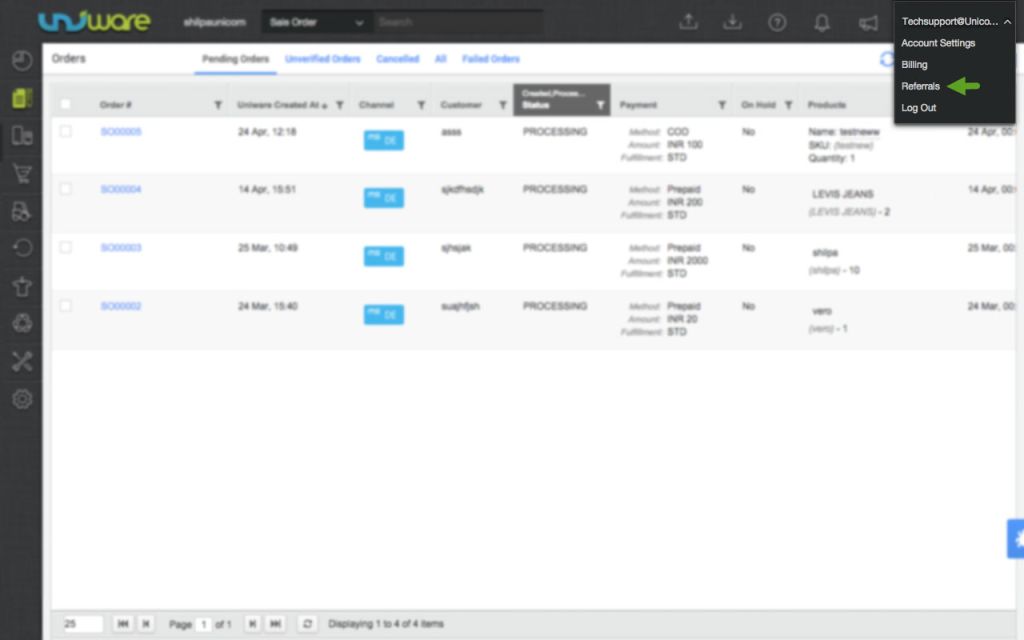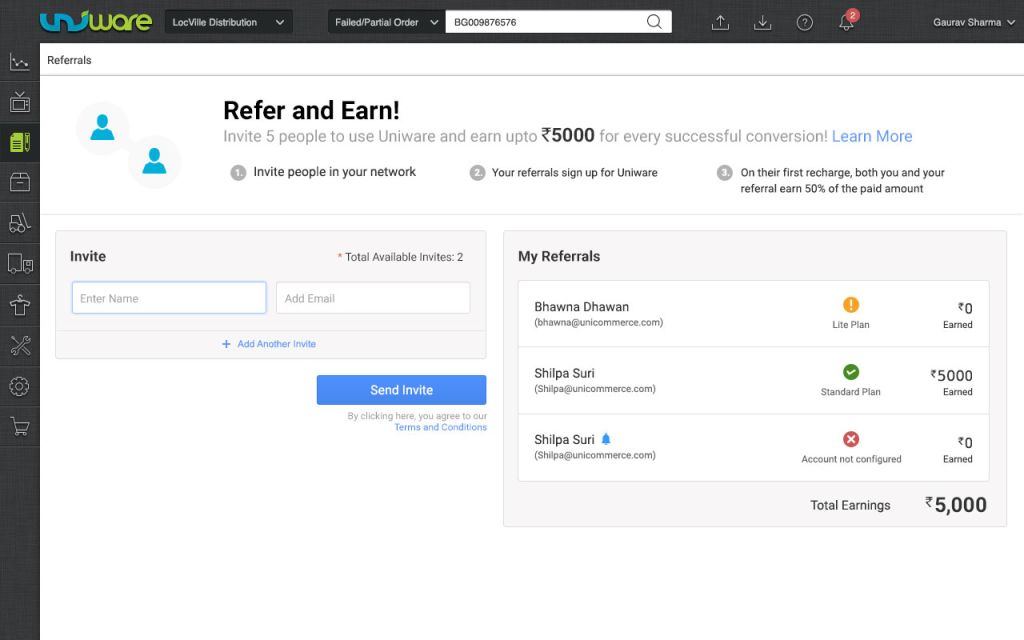 How many invites can I send out?
At present, you can send out a maximum of 30 invites from your Unicommerce
account.
What qualifies for a successful conversion?
The referee needs to create an account in Unicommerce
by clicking on the link in the referral email sent by the system and upgrade to a paid version of the product (either Standard or Professional).
How will the referral credit be calculated?
Referral credit would be 50% of the amount that has been paid by the referee to upgrade to a paid plan of Unicommerce.
Example: A has referred B to use Unicommerce. B signs up and is currently a Lite user.
Now B wants to upgrade to a paid package for which he would pay Rs.X.
Hence, Referral Amount earned by A = 50% (X) Where X = Upgrade amount paid by B
Please note that if one has upgraded to Standard by paying Rs.5000, then 50% of that amount will be given as referral credit which is Rs.2500. If one has paid Rs.2000 for upgrading, then Rs.1000 would be given as credit. Similarly, on upgrading to a Professional plan by paying Rs.10000, referral credit would be Rs.5000.
After my referral has converted, when will I get the credit balance?
After the referee makes a successful payment towards Unicommerce for upgrading to a paid package (Standard and Professional) and balance is credited in the referee account, the referral credit will be added to your Unicommerce account balance at the same time. Please note that balance credit is instant in case of a successful online payment but may take 2-3 days to process, in cases where payment has been done by Cheque.
Will I get credit every time my referral upgrades or recharges his account?
No, referral amount is purely a one-time credit that you will receive on the first upgrade of your referee only.
Can I get my referral amount in my bank account?
No, all referral amount will be credited as Unicommerce account balance only.
Can I resend the email invite to my friend?
Yes, you can resend the email invite to your referees who have not signed up for Unicommerce yet from your account.
Does the referral balance have an expiry date?
No, the referral balance, similar to Unicommerce account balance, does not have an expiry date.
I am a Lite user. Will the Referral program be available for me as well? How will I use the credit that is rewarded to me?
Yes, referral program is available for all Standard / Professional / Lite users. Since all services within Lite are free, you can use the rewarded credit whenever you upgrade to a paid version of the product.