The Indian online fashion retail market has witnessed significant success in recent years, which speaks for various trends in country's evolving fashion retail market based on the favorable demographic dividend, retail-specific policies, and consumer buying behavior. One of the most significant changes is Advancing Online Retail or e-tail of Fashion products across the country.
Out of $7 billion India's e-tailing market, online fashion retail stands with $2.4 billion contributions to it. While this estimation for Indian e-tailing market is expected to touch $60 Billion by 2020 and online Fashion Retail Market is expected to reach $20 Billion by 2020.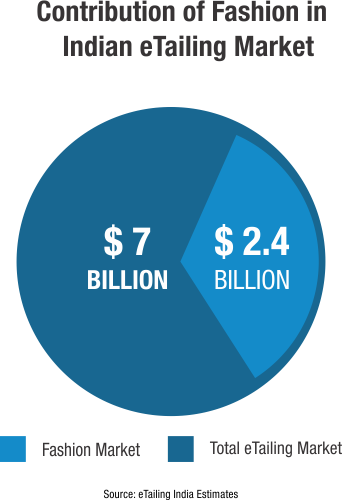 Latest Trends in Online Fashion Retail
Acceptance of Multi-sales channel strategy (Online/offline) among fashion retailers
Multi-brand route- Marketplaces like Myntra, Jabong, etc
Fashion brands (retailers) going online (Biba, House of Anita Dongre, Puma etc.)
e-tailers entering into niche segments to cash in on untapped categories (Voonik, YepMe, Craftsvilla, Firstcry.com, Babyoye.com etc.)
Currently, a major part of India's fashion market is digitally influenced. A recent study says Apparel industry covers 47% of the total Indian Fashion catalog present online. While rest is covered by Fashion Accessories (40%), Footwear (9%) &, Lingerie (4%)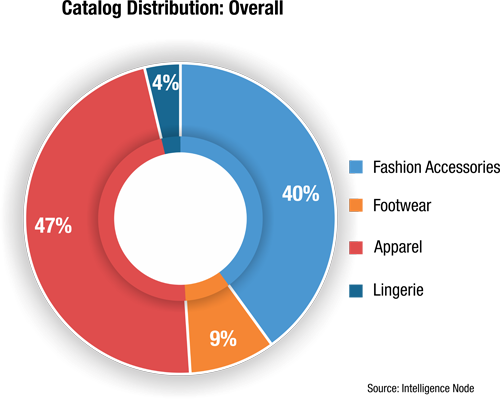 In the current shopper-centric era, Indian fashion industry is joining hands with technological advancements Retailers are progressively accepting innovative ideas and tactics to create a memorable and personalized shopping experience, keeping revenue growth and logistic and operational cost reduction into consideration.  Introduction to Omnichannel Retail is the new strategy big offline brands going online are adapting.
To know what Omnichannel is and how Big Brands are transforming their businesses, Click here
The opportunity is immense for the online fashion retailers. New and updated strategies are required to address the rising challenges. They have to continue reorganizing their business models to cater to the evolving needs of this dynamic market. And selecting right processes and technology will help you streamline your Business altogether!
To know more about Apparel Industry's Trends and Challenges: Read Here and about Footwear Industry's Trends, challenges and solutions, Read Here