Simplify
Direct To Consumer

(D2C)

E-commerce With Full Stack Solutions

To achieve higher growth, 200+ D2C brands across India, the Middle East, and South East Asia, partner with Unicommerce across the e-commerce value chain by leveraging the existing ecosystem!
Perfect Backend System to Manage D2C E-commerce Operations
Establishing D2C operations requires a huge investment of time and money for enabling technological capabilities. While it has many advantages over traditional retail, the execution can be cumbersome. Unicommerce is working with 200+ leading D2C brands to simplify their D2C e-commerce operations. From enhancing productivity to automating various parts of business operations, the system is crafted specifically for the D2C business model.
Hamilton has been able to restrict losses, limit inaccuracies, provide efficient deliveries, reduce manual dependency and much more to unlock the true potential of its business.
Enamor began to track, manage and update its inventory in real-time, reduce its order processing time from hours to seconds, seamlessly handle orders from over 7 marketplaces and a lot more all of which empowered Enamor to streamline e-commerce operations.
End-To-End Automation Solution For Successful Direct To Consumer (D2C)
E-commerce Implementation
Our solutions are designed specifically for D2C e-commerce platform businesses so that they achieve phenomenal growth, and better customer satisfaction rates across multiple sales channels including marketplaces & own website.
Improve the brand experience of your customers by rendering highly advanced and thoroughly customized services.
Our robust D2C e-commerce solutions make sure that you offer faster delivery to your customers through automated operations while adopting hyper-local order fulfillment.
By having Unicommerce in your system, you can maintain both B2B/B2C returns with speed while minimizing the possibility of incorrect product delivery. 
By selling directly to your customers using Unicommerce, you can maintain the standards of your offerings by serving authentic benefits of direct-to-consumer quality products to your customers. 
One of the benefits of adopting Unicommerce's D2C e-commerce platform is that you indulge in detailed quality control operations, enhancing the customers' buying experience.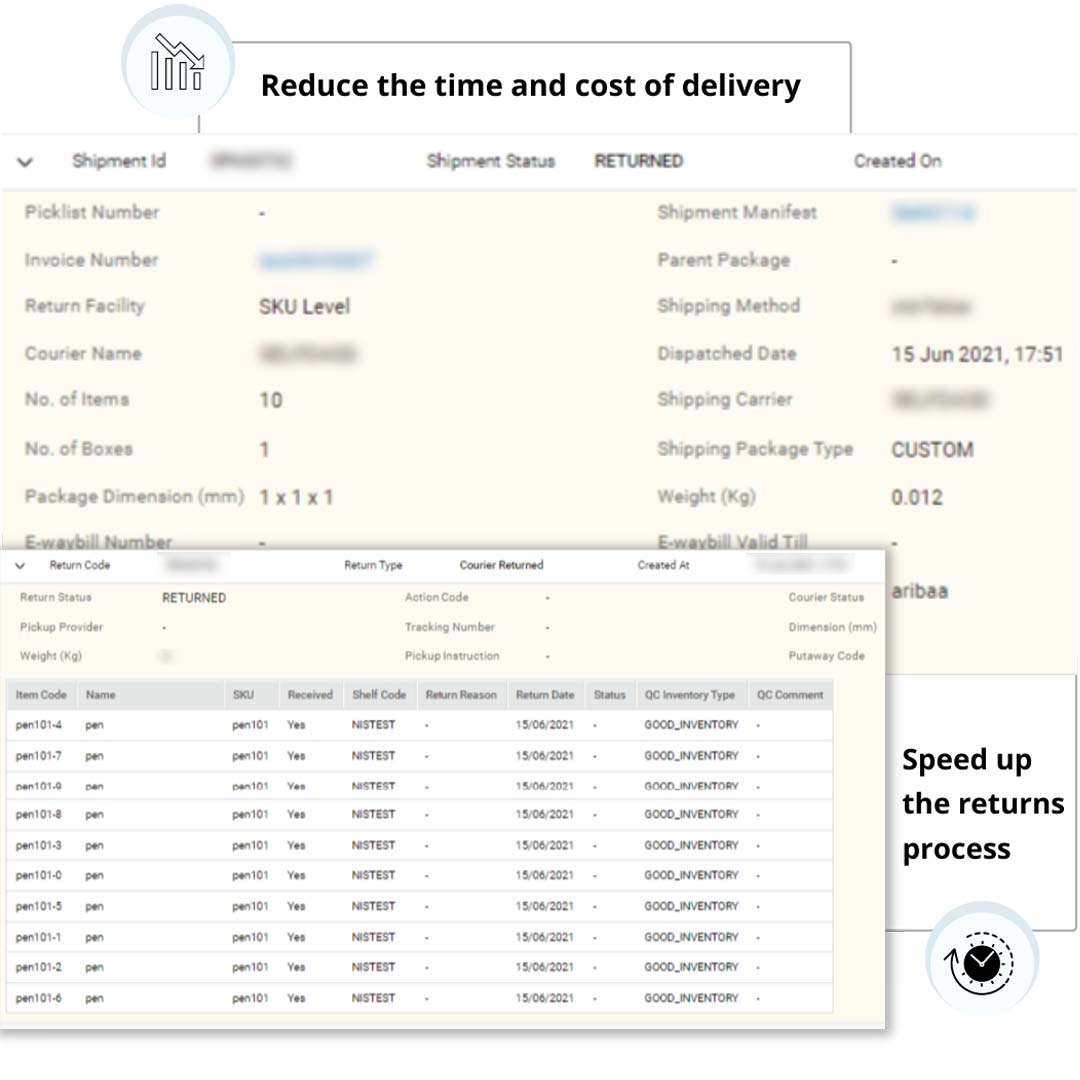 Get complete control over your business operations by eliminating the disruptions caused by intermediaries and middlemen.
Improved Customer Service
With the D2C e-commerce solution, you get robust ERP & POS integrations that can help you enhance post-purchase services as per the research of your customers' behavior tendencies. 
By depending on our superior e-commerce system and being both the manufacturer and the retailer you get control over how your customers should perceive your brand's image. 
Distinguished Brand Marketing 
Let us handle your operations so you can make your marketing campaigns stand out which is impossible with traditional retailing - given intermediaries get control over branding activities. 
Be it a new product launch or an added feature, you get an advantage to update your customers' know-how with correct and detailed information about your brand.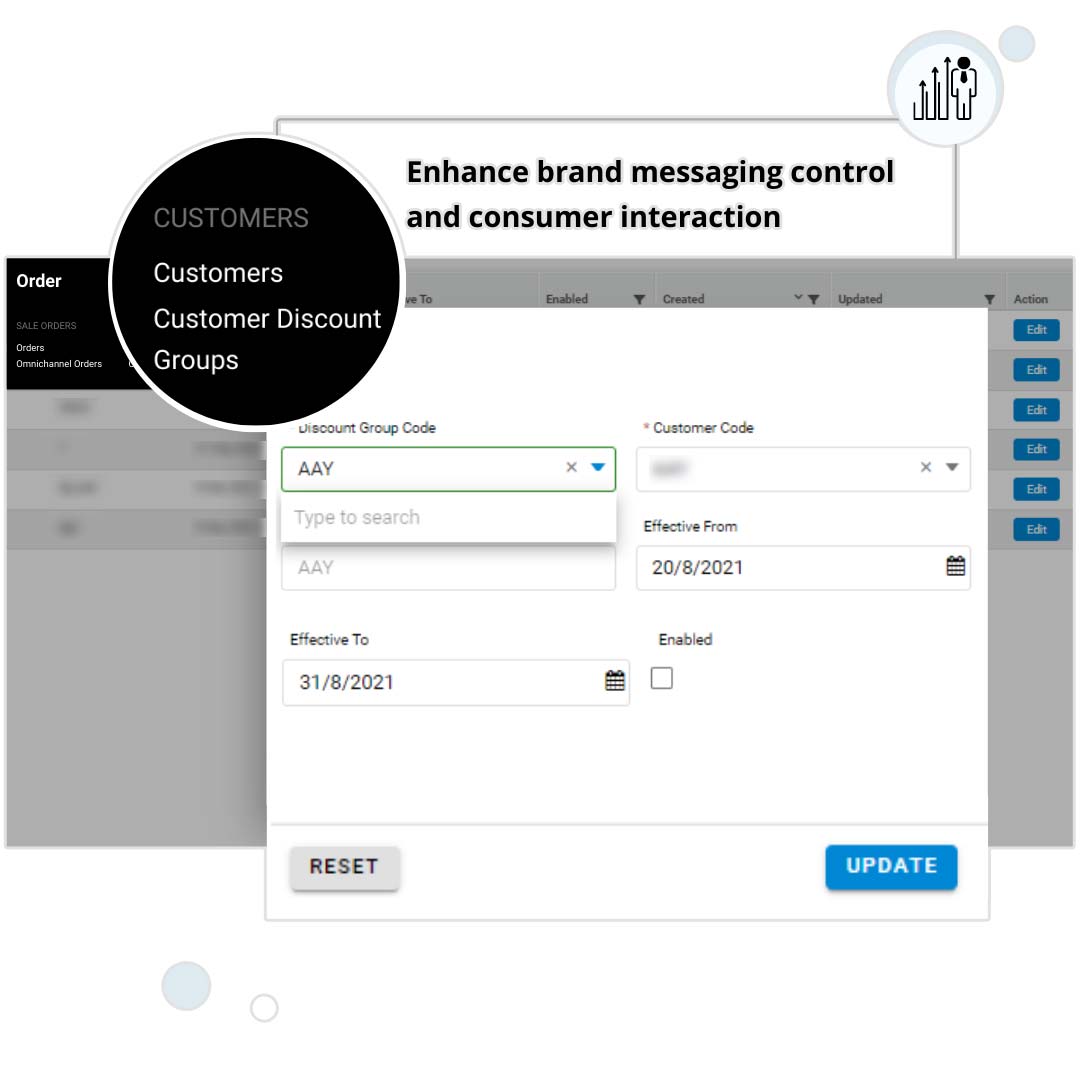 From product designing to end sales to post-purchase activities, you can manage the engagement, delivery all while analyzing the behavior of your customers.
With our centralized, you get the information of your customers, so that you can build long-term relationships with them while tailoring the entire buying process of the customers.
Make the most of the direct learning with our unified support and get in contact with your customers to make the desired improvements amid the production process. 
Utilize the data to segment your customers based on both demographic and psychographic aspects, personalizing their overall experience. 
By getting a single view of operations with our D2C-driven e-commerce solution, you can identify and examine the frictions present in the customers' buying cycle in order to rectify them.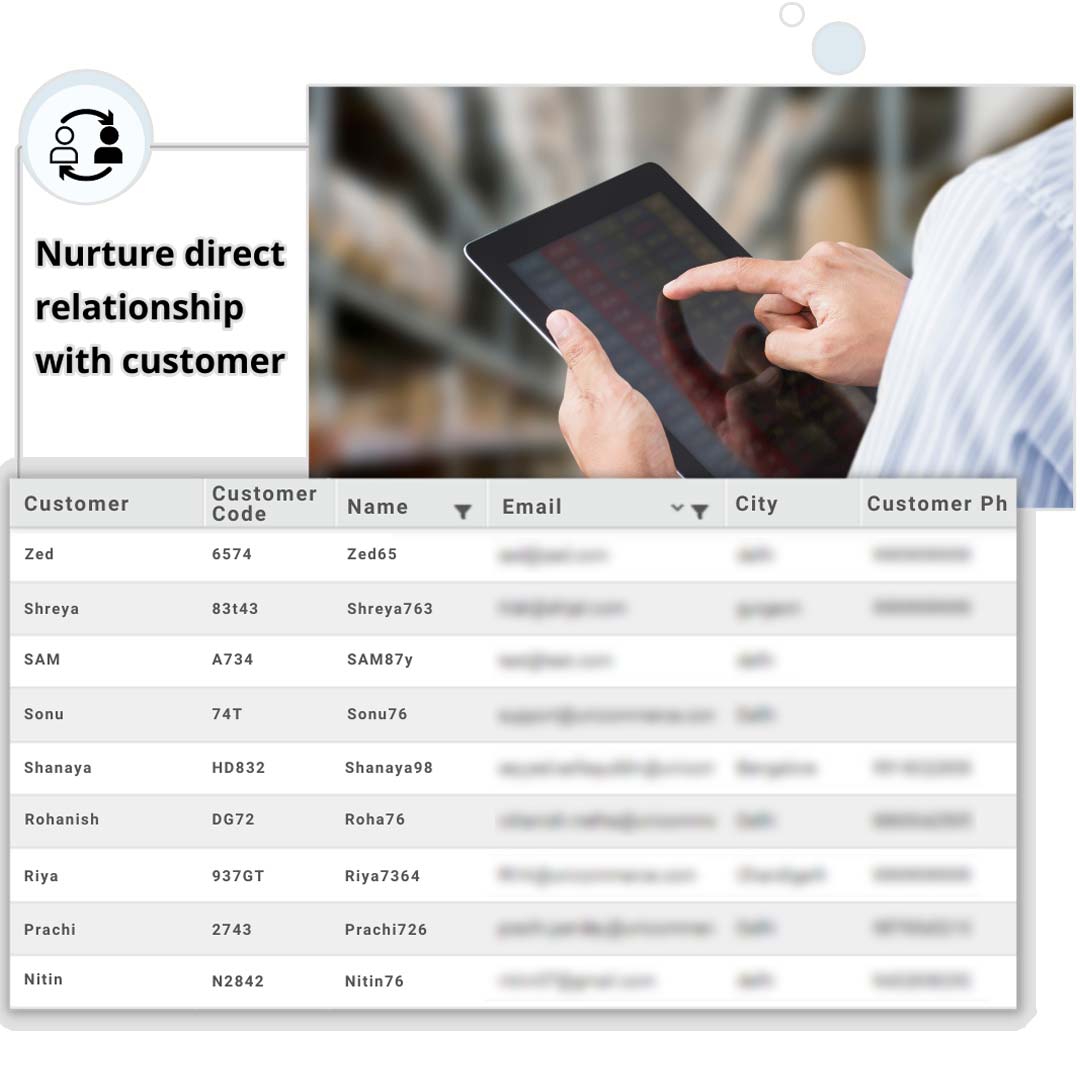 Expand the share of your business in different markets, reaching out to a wider customer base with our curated D2C solutions.
By automating everything through our future-ready D2C solutions, you can broaden your product line with more intricate designs, attracting niche customers.
Expose Catalogue Efficiently 
With our catalog management feature, you can put forward your entire product catalog to your customers, showcasing an array of variations in size, texture, color, etc. 
By using our centralized D2C eCommerce platform to cater to the audience's needs, you can minimize your operating costs and utilize those resources to expand your business horizons. 
With our elaborated dashboard, you can check the performance of your brand in a particular market in order to expand your presence and serve more customers.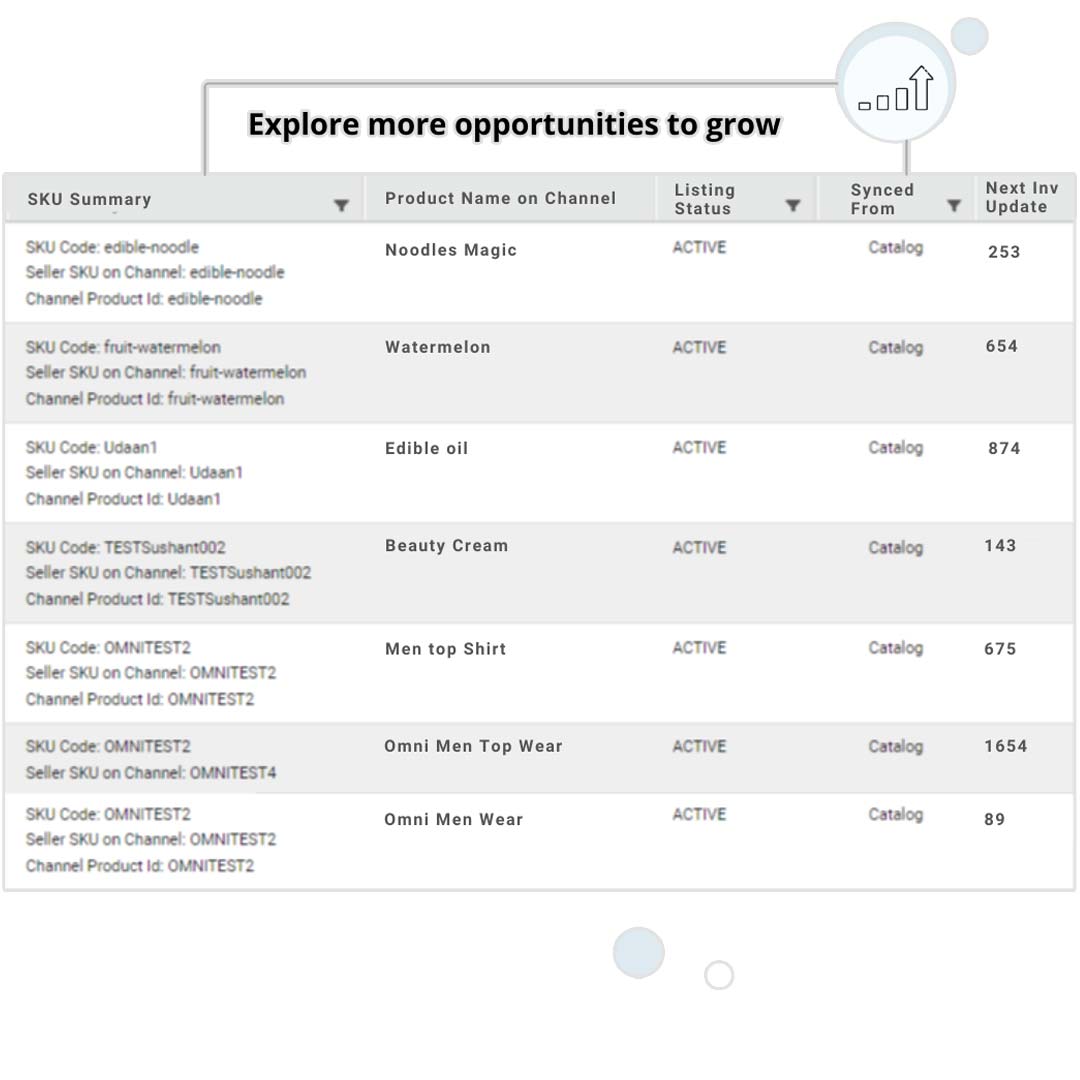 Features of Unicommerce's D2C Business Model
Establish strong bonds with your customers directly by avoiding the hassles of involving intermediaries with direct-to-consumer (D2C) business model.
Bundle Order Processing & Picking
Process orders in different combo packs with our unique bundle management feature so that you can be distinctive in the sea of e-commerce brands, attracting more customers.
Order Management Integration
Streamline your
order management operations
by amalgamating the stable integrations in your system to incorporate your logistics, payment processing, D2C sales and CRM operations, etc.
Dynamic Order Fulfilment
Fulfill orders timely as our system comes pre-integrated with the world's leading logistics players, helping you enhance the experience of your customers while establishing the mark of your D2C brand.
Full Inventory Visibility & Accuracy
Get the full visibility of your inventory so that you can serve customers while avoiding the issues of overstocking or stockouts.
Comprehensive GRN Workflow
Run extensive quality checks of your inventory while segregation good and bad inventory to authenticate the standard of your offerings.
Batch Management
Classify the nature of the inventory and segregate the orders based on the expiry management methods, such as FIFO & FEFO. 
End-To-End Tracking
Track the shipments of the products by automating the updates in our system so as to inform customers about their delivery status, resulting in an improved experience.
Partial Shipments
Split or break the shipment of orders to treat individual shipments separately while hastening the process of order routing. 
Actionable Data Insights
Increase the clarity of your daily performance by keeping track of your routine operations, including metrics such as pending orders, SLA breached, failed orders, unverified orders, etc. 
Our Solutions Are Known for
Specialist in simplifying Direct-to-Consumer selling for leading brands across the globe

.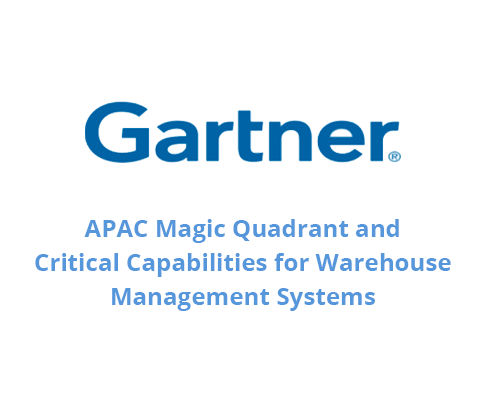 "Building the D2C brand from complete scratch was a roller coaster journey for us! We are thankful to the team of Unicommerce & their top-notch e-commerce technology solutions, which played a key role in streamlining D2C selling for us".
"Being a D2C brand, we prioritize ensuring timely deliveries and a smooth purchase experience for our customers. Our partnership with Unicommerce comes at the right time in our growth journey as we scale multiple brands. They have an evolved e-commerce-focused supply chain platform and their ability to meet evolving business needs of D2C brands like ours makes us confident of the value that Unicommerce will add as we move towards building a House of Brands."
Related Content 0n D2C E-commerce
How a leading Consumer Electronics Brand Dispatched 170K+ orders per Month Seamlessly for its D2C Operations!
The strong yet simple infrastructure of Unicommerce empowered the brand every step of the way while amplifying their customer service experience by hastening the delivery process.
Published on September 28,2022
Direct to Consumer (D2C) E-commerce Selling Solutions, Strategies & Benefits
Some of the biggest brands have adapted the new-age D2C business model with the help of Unicommerce and have seamlessly automated their operations across online & offline sales channels
Published on November 07,2022
Top 7 Direct to Consumer (D2C) E-commerce Trends for 2022
Over the last two years, our businesses has mutated quite dramatically. One clear example is the rapid rise of Direct to Consumer (D2C) e-commerce within the larger and fast-expanding world of online business.
Published on February 16,2022
Manage Your Online Website And Watch Your D2C Business Grow Exponentially!