All the E-commerce & Warehouse Operations are just a Click away.
Download the Uniware app to experience the world class
E-commerce Management features!
Unicommerce comes pre integrated with 100+ world's leading marketplaces, cart solutions, logistics providers and ERP systems like Amazon, Flipkart, Magento, Shopify, Fedex, Aramex, SAP, Navision etc. and many more are already plugged into Uniware as it is designed for multi-channel retail.
With access to the Uniware app, the Unicommerce customers (E-commerce sellers) gets an exposure to comprehensive Dashboards across multiple channels, complete order processing, inventory management and various advanced warehouse management features. Find few of them listed below:
Complete order processing through the Uniware app
For effortless business operations, now complete order processing is available via Uniware app! View your pending orders, failed orders, orders that have breached SLA and unverified orders across marketplaces & carts.
Manage returns through a single scan!
Update the shelf code and return reason while completing returns to capture complete information about returns.
Paperless Warehouse Management Operations
Make your warehouse operations completely paperless by managing your warehouse operations such as picking, packing, Cycle count, etc. with ease using your handheld device.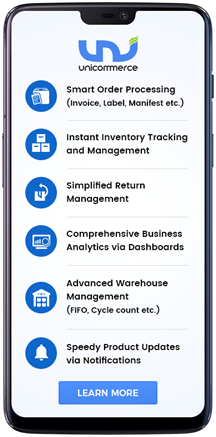 Comprehensive Business Analytics Via Dashboards
View the current status of your sales, inventory and pending shipments. Also keep a track of your revenue and Top Performing channels, categories and products.
Complete inventory management
Now edit inventory count for various items directly from your App
View Product Details and Details Listings
Check your listing status (Sync Enabled, Sync Disabled, Linked and Unlinked) and Product details of all your configured channels.
Recharge Your Uniware Account
Not to worry if the balance goes low! View your account balance and recharge from the convenience of your mobile app
Access Uniware on the go! Download your Android App right away and empower yourself to manage your inventory, view listings and Have a look at the Dashboards for checking the current status of your sales, inventory and pending shipments
Request A Demo
Unicommece's multi-channel management system is a value-add to your retail operations structure; enhancing and fine-tuning the every-day business operations.
We believe in delivering what we promise. Call us to fix an appointment for a demo and more details.