Get a Clear View Where You are. Where you're Going.
Where you should actually be!
Dashboard
Unicommerce's Dashboard is a great way to understand the complexity of eCommerce data. Get more visibility of the data with Unicommerce's advanced analytics and dashboard and keep a tab on relevant things you should know about your business.
Overview
Dashboard Overview page gives you an overall glance of the system for the current date,  highlighting three main parameters:
Order Alerts: Pending, SLA Breached orders, Unverified and Failed Orders
Product Alerts: Number of Failed and Disabled Inventory
Channel Alerts: Number of broken connectors and channels pending to be configured
Sales
Sales dashboard show the charts highlighting the revenue earned and items sold on each channel. The revenue can be calculated for a day, month and quarter of a year.It also gives an information regarding:
Top performing Channels
Top performing Categories
Top performing Products
Top Product's revenue in Top Channels
Slow moving products in last month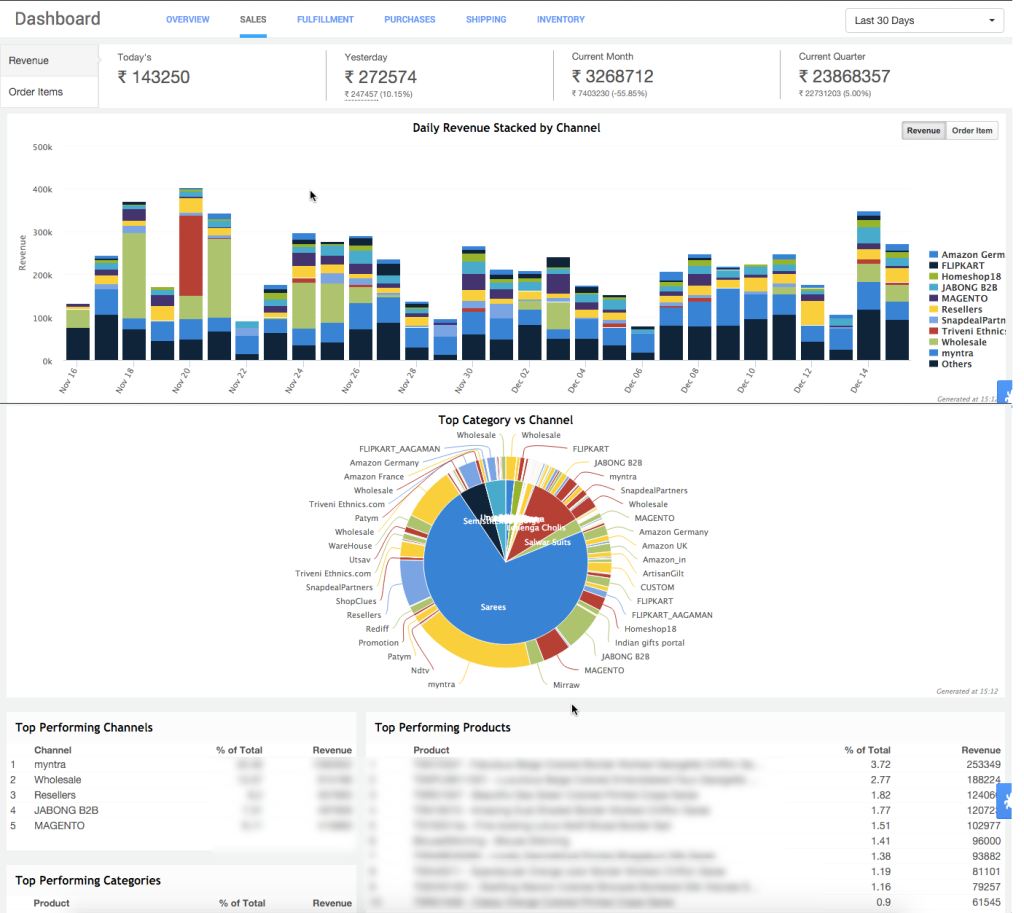 Fulfillment
Fulfillment dashboard tells about the shipments pending to be processed. The graphs comes with pre-filter of week, month & quarter and shows the following charts:
Pending Shipments
Total Orders Vs Total Orders Dispatched
Pending Orders
PO Raised Vs PO To Be Raised Vs Pending Putaways
Returns
Keep a tab on returns using Returns dashboard. It shows the charts of the Channel and SKU wise return with the comparison to the total units sold. Also download the reports on a click, includes dashboard like:
Shipping Provider Returns Summary
Total Returns
Channel Wise Return %
Inventory
Inventory dashboard shows actual view of the system inventory snapshot along with quick report download option. It includes:
Total Counts of SKU's
Cost of Inventory
Out of Stock % of SKU's
Inventory Availability of Fast Moving SKUs
Products With Zero Order In Last Month
Payments
Payments dashboard shows the graphical representation of the all payment related information and have following snapshots:
Received Payment
Outstanding Payment
Channel Settlement Summary
Total Outstanding Order Value

Reports
Post GST implementation, compiling sales data was a big challenge for all sellers, That's why we don't get surprised when our customers report us that filing returns and accounting became easier using Unicommerce's Tally GST Reports.
With just minimal cost invested you get to streamline your business, track daily/weekly operational activities to improve productivity and enhance growth via through Unicommerce Reports:
Sale Order Report
Inventory Report
Tally GST Report
Tally Return GST Report
… & many more
Every report, every view, every graph of this Ecommerce Order Management Software has been thought over, carefully designed to help you in making the right judgement, take the right calls. That's why our customers feel confident to process millions of orders every month through our order management system software.
Request A Demo
Unicommece's multi-channel management system is a value-add to your retail operations structure; enhancing and fine-tuning the every-day business operations.
We believe in delivering what we promise. Call us to fix an appointment for a demo and more details.