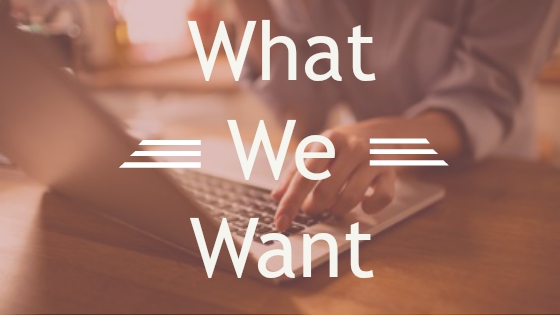 Dear Online Sellers,
E-commerce is one of the best things that has happened to us in recent times. And the party has just begun. We (your customers) are warming up to it, enjoying it. We recognize the important part that retailers play to make it happen.We no more have to go in a brick and mortar shop to buy the products. We get to see a large collection of products from different brands. But still, we feel you guys need to wake up and smell the coffee for the irritating things that you are unknowingly doing. Why ? Well..read on
We need opinions while shopping online.
We shop together not alone! 
For missing this obvious thing. Shopping is not a job to be done for me. It's more of fun time with friends. While shopping offline in an actual market place, we never go alone. Asking for suggestions or opinion from friends and family is very common.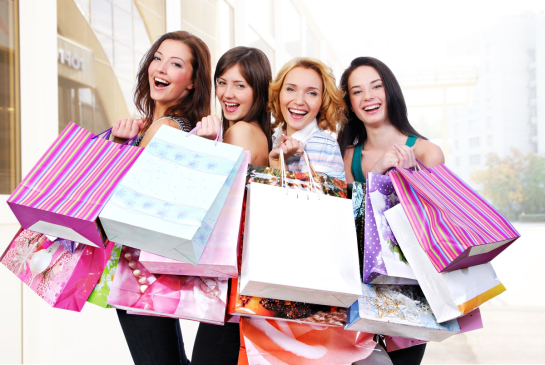 Similarly, while shopping online I would like to share the items to be bought with my friends and family members to ask for their views on them. Though it's not necessary, yet it makes me feel great to buy something that everybody appreciates or likes.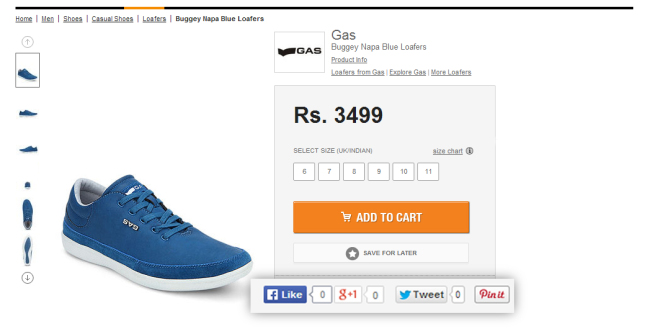 'Social media Share Buttons' fulfills this need of the customers like me, and helps me to decide on the best from the rest by taking the views of my near and dear ones. As a matter of fact, it not only benefits us the customers but also the sellers. It promotes your business indirectly by giving your products some free publicity.
That's why I find it so surprising when I come across e-shops without share buttons below product like in the image below.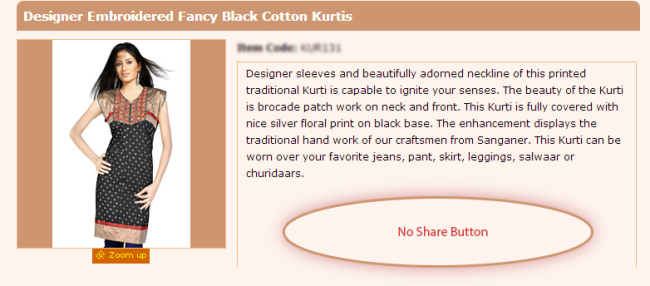 Why treat us different from your Shop Customers?
Even we want to see the product inside out before buying it.
When deciding on buying online, images are the only way to have an idea of the product that I would like to buy but can't practically touch and feel. Insufficient number of images unnecessarily stirs up doubt in our mind whether the product is of good quality or not. If you think, giving insufficient product images will create curiosity that will induce us to buy. Then I am extremely sorry to let you know that it's extremely opposite.
It's very annoying to any customer, who wants to buy the product but due to lack of product images he or she can't take a decision and then drops the idea of buying it altogether.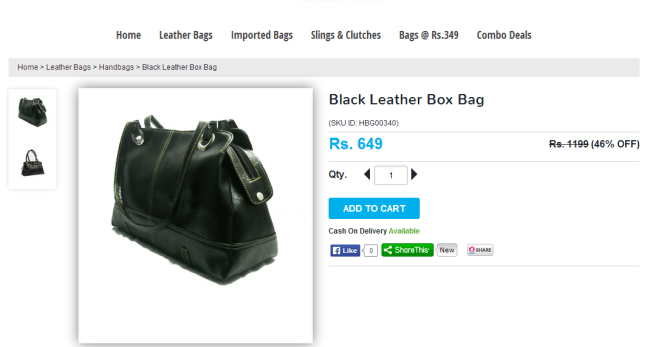 Do you really think – anyone in her sane mind would actually buy this above purse just looking at 2 photos. 
I would like to know what it looks like from inside. What color, the arrangement and all. But I cannot. Believe me – two to three additional images will definitely give you better ROI on the money you are already paying to the photographer. By running an online business you are already saving up huge money which otherwise would be spent on rent, electricity, this and that. Why not invest that saved up money in such things which convert visitors into buyers.
Patience is not a virtue for online buyers
70% of Online buyers fall in age group 18-35
 Patience is not a virtue for this specific age group at all. For trying my patience. "We" are an impatient lot and hate it when someone asks us to wait. Now think of a situation where you have placed an order for some essential goods and not receiving on time.
As a seller, you are also aware that the young generation is your prime online buyers. Unlike our grandparents and parents who are known for their patience level, we are just the opposite to them. We want everything before time. Waiting to receive longer than the estimated time is extremely exhausting for us. It creates a negative impression about brand in our minds.
This is even more frustrating if we have to return something bought online. If I had bought it in real shops, I could just go to that shop the same day and return it if I am unhappy about it. But if shopped online, it's nothing less than a nightmare.
Don't create a false sense of urgency
We are impatient but not idiots- we 'll buy when we have to!
There are some e-commerce sites which will start the timer of say 15 mins or so, as soon as you add something to the cart. They expect you to purchase it before the timer expires. Such time limited shopping cart is really annoying. It's like creating a false sense of urgency to the customers. Besides, it doesn't allow me to choose many product items to keep in the same cart to buy together under one cart.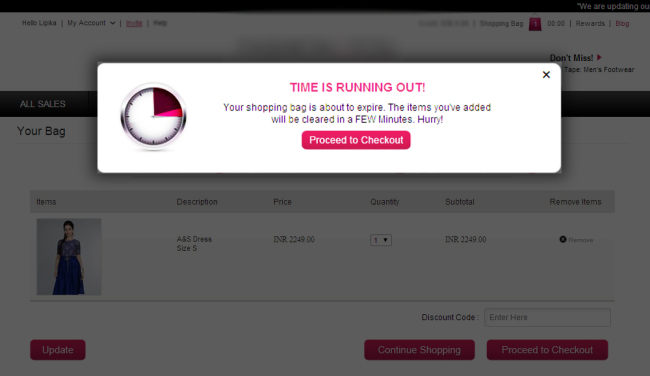 While shopping online, I go through a number of options given there to choose from. It takes a few minutes to do so. In this scenario, if my previously saved item gets deleted after a short span of time (once the timer expires), then you can imagine how irritating it would be for me. It restricts me from buying all my favorite items under one cart at one time.
Besides, I have to purchase every item individually providing my bank details against each purchase. This is not cool at all.
Deliver what we ordered. No Excuses !!
For sheer negligence. Many a times, I have received products that are of different colors or different size from what I had ordered. It is very frustrating for any customer when he or she gets something different from what they ordered. Particularly, when it happens on garments.
"I invest a lot more time than the usual customers to choose any product or item. In this case, when I receive a product that is different from what I am expecting, one can image what would be my reaction"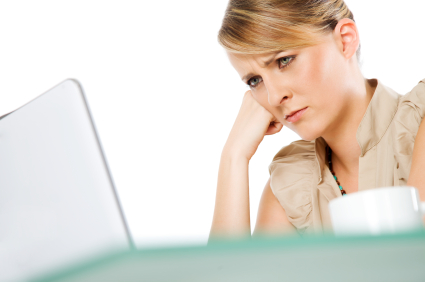 What's worse, some e-commerce sites blatantly refuse to exchange it. They don't even let you return it. What am I going to do with that garment or thing. It will just sit in my closet everyday reminding me what a bad experience I had with your site. And of course it will become a good conversation topic with my friends and family whom I will share what an ordeal I had to go through, when I did business with you. I am sure you don't want that to happen. Do you?
I just hope that after these loud wake up calls you have woken up to some ground realities. If you improve on these, you will definitely receive tight hugs from all of us instead of rude wake up calls!
A suggestion I want to give, why don't you guys look for some ecommerce management software, which will look after your entire ecommerce operations brilliantly.
Unicommerce is one of the pioneer in the supply chain management operations. It has recently been tied up with Chumbak, Ginesys, Forever New, and much more.