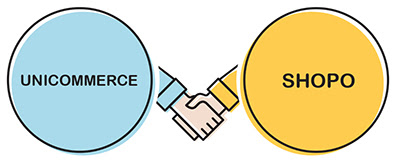 Unicommerce- the Online Multi Channel Order Fulfillment Platform has partnered with Shopo to help merchants achieve more sales. Shopo is a mobile-based open marketplace recently launched by the Indian ecommerce giant Snapdeal, where small businesses will be able to list their products without any commission pay.
Unlike other online market places, to list products on Shopo, one does not require submitting any documents and follow the long verification procedures for TIN, VAT, SLA etc.
On its launch, Snapdeal CEO Mr. Kunal Bahl said – "We have launched Shopo, a mobile-based open marketplace that will allow businesses as well as individuals to harness the power of Internet instantly and at zero cost." He further added- "the aim is to bring one million such entities on the Shopo platform in the next one year and help them become a part of India's digital commerce ecosystem."
No doubt, the growing numbers of online marketplaces have made it difficult for the merchants to attain more customers selling through a single channel. However, the multi-channel order fulfillment has never been so easy for them until Unicommerce came into the picture.
Since inception, Unicommerce has been encouraging its customers to expand their businesses and allowed them to manage multi-channel orders from a single panel. Its recent partnership with Shopo aims at boosting sales of their merchants.