Valentine's Day is just around the corner. While the festival of love is knocking on the doorsteps, you as a seller must embrace the profits that come with it. As it brings huge opportunities for you to sell online, you must make the best of your services. 
While February is all about Valentine's Day, shoppers make it a rather serious affair to let their loved ones know of their affection by spending huge sums on gifts and experiences. Moreover, as per a survey by NRF, the total expected spending is forecasted to be $23.9B in 2022. 
Going by the recent trends, e-commerce businesses offering chocolates, flowers, fashion jewelry, and more, have the advantage to increase their business profits during this season. Let's study these stats in deep.
LOVE wrapped in Statistics
Capturing the data from NRF, here's the list of the items bought most during this time:
Candy:

55.5% 

Flowers:

37.5% 

Jewelry:

22% 

Apparels:

22%

Gift Card: 21%
Valentine's for All: eCommerce Operations at Peak
Not only for couples, but Valentine's Day has also gained popularity as a way to express your feelings to a potential partner, or to your lovely pets, even to your single friends who might feel lonely this time. People look out for the best possible offers at this time to purchase their long wishlist products making it a rather huge opportunity to boost sales for online sellers and retailers with such a big pool of buyers. 
E-commerce marketplaces are the biggest arena for Valentine's sales as most couples try and surprise their partners by giving them heartfelt gifts with easy delivery at their doorstep, instead of walking around in stores fetching something for them.
For businesses to make the most out of this celebratory time, all you need to do is market your product and streamline operations enabling faster selling across your customer base.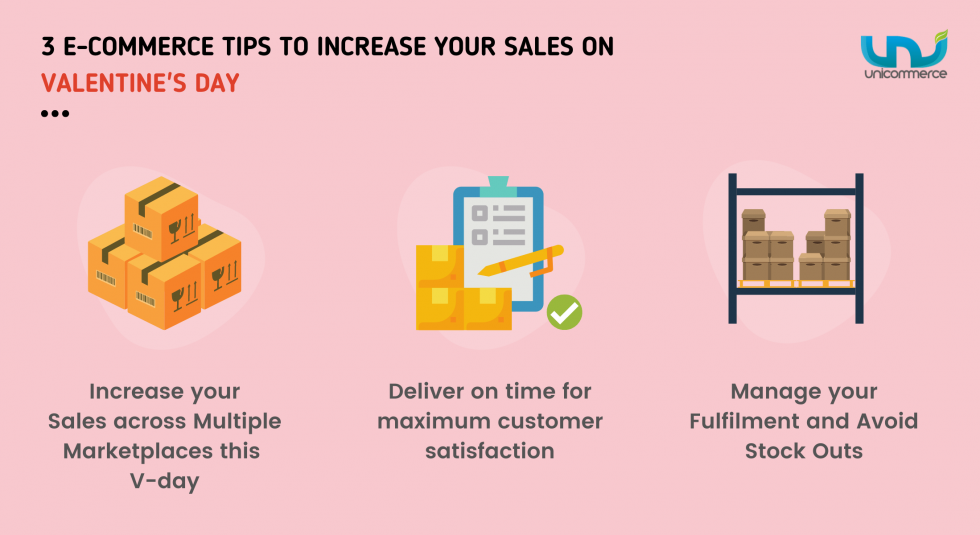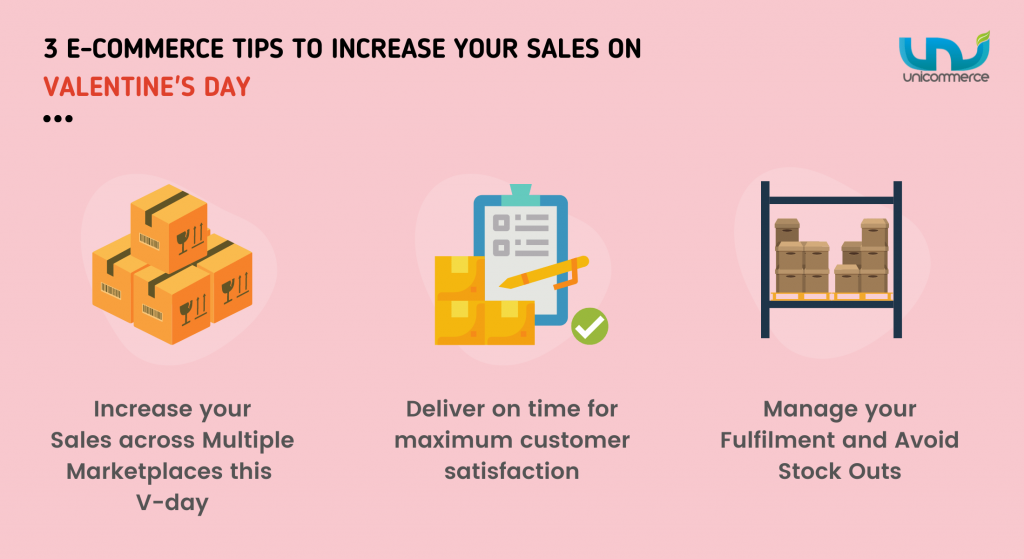 1. Increase your Sales across Multiple Marketplaces this V-day
Sellers need to come up with special offers on limited stocks that not only work for the target customers making big gestures or efforts for their loved ones but also serve a purpose for the ones interested in getting a good deal out of all this. 
Businesses can go for cross-selling as complimentary items are always appreciated by people. You can also give away huge discounts or coupons on your range of products and include customizable hampers to choose from. Moreover, you can also leverage multiple marketplaces to make the best out of this day. 
Hot tip: Going omnichannel can allow you to retain increased customers. Right from back-end operations, including inventory management and order fulfillment to front-end functions, such as marketing and branding, integrating Omnichannel in your business can enable you to grow your bottom line exponentially.
2. Manage your Fulfilment and Avoid Stock Outs
Valentine's Day is one of the busiest times for e-commerce sellers with huge amounts of purchases made and orders to be delivered. Impacting their overall revenue exponentially, it becomes the top-most priority for the online sellers to manage and track their inventory efficiently.
With non-stop purchases during this time organizing and processing inventory can become the biggest challenge for e-commerce sellers and retailers. If you fail to manage the flow of your orders and prevent out-of-stock order situations then this can cause some serious damage to your business. A good warehouse management system that syncs your orders and regularizes your inventory, as well as returns in real-time, is what'll work to achieve this.
3. Deliver on time for maximum customer satisfaction
Once all the inventory is processed and orders are packed, you need to make sure that delivery happens right on time. People plan their Valentine's weeks in advance and it is extremely necessary for them to get their orders on schedule.
Delayed or unfulfilled delivery not only causes unsatisfactory customer experience but markets badly for your overall reputation as an online seller. Make sure you have the best shipping and logistics solutions in place to manage and track your order efficiently to avoid delays. 
Be Ours this Valentine
Being the next biggest thing for e-commerce sellers and retailers post the Black Friday Sales, Valentine's Sales need your complete focus to pace up your revenue growth. 
To build on that focus you can never totally rely on your manual workforce, rather you onboard a supply chain management system that tracks and manages orders, inventory, and returns across multiple marketplaces, retail stores, and warehouse locations.
All of this can be done with the help of Unicommerce's automated and highly scalable multichannel e-commerce solutions.
So be our Valentine this time and make the most out of our solutions to take your business up the trajectory of success.
Let's start with Unicommerce. Request a Free Demo now !!!