Going a century back, International Women's Day was established in 1911 to motivate and acknowledge women across the globe. And since then, our #WomenHeroes have been working hard to become "second to none," right from education to entrepreneurship, they have been focused to change the centuries-old saying "behind every man, there is a successful woman" to "behind every success, there is a hard-working woman."
On the occasion of #IWD2022, we at Unicommerce are inspired by the vigor and bravery women of this century have been showing. Whether we talk about unconventional professions, such as a doctor, pilot, engineer, and lawyer, or shed light on digital entrepreneurs, have they ever failed to achieve the height of success?
"Leadership is hard to define and good leadership even harder. But if you can get people to follow you to the ends of the earth, you're a great leader."  — Indra Nooyi, Former Chairman & CEO, PepsiCo
To acknowledge the fact of being a women entrepreneur, we have culled out a list of 10 women, who have been leading the e-commerce industry with their excellent and top-notch skillsets. Let's applaud them while giving this a read. 
1. Harini Sivakumar (Founder & CEO, Earth Rhythm)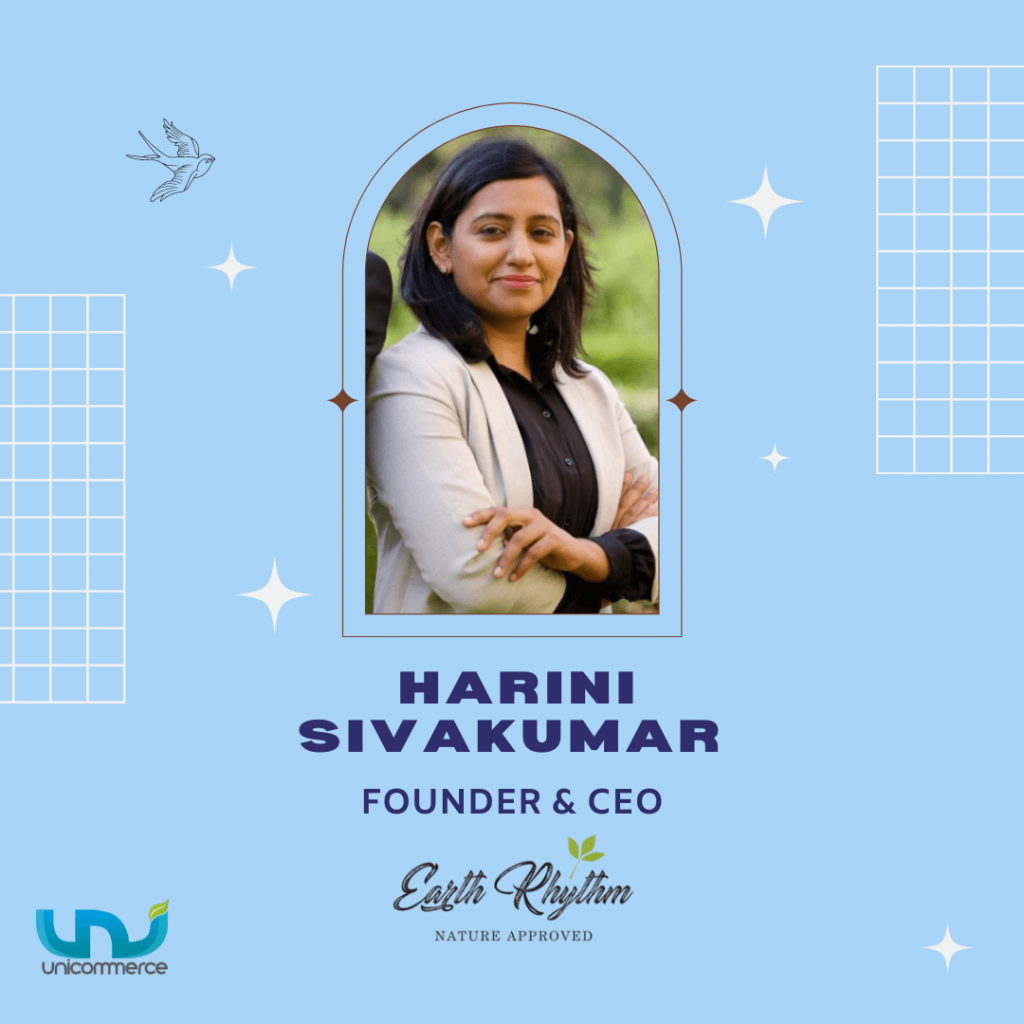 Harini Sivakumar is the epitome of a brave mother, who can do anything for her son. Her entrepreneurial journey started when her five years old son was diagnosed with Down Syndrome. While she was devastated by the news, she didn't lose herself and started looking for products that are safe for her son. After struggling with finding the right product, she decided to craft soaps and body butter on her own. Her passion for providing safe products to not only her son but to people around the nation made her a successful entrepreneur. Talking about her brand, Earth Rhythm, it is committed to crafting the healthiest skincare range. 
2. Naomi Leon (Co-Founder & Director, Rapid Delivery)  
Naomi, after completing her Telecommunication engineering degree from St Francis Institute of Technology, realized that she always wanted to work for herself rather than doing a mundane job. In August 2016, she co-founded Mumbai-based logistics startup Rapid Delivery. While the idea of Rapid Delivery is to streamline supply chain processes, the performance-driven end-to-end courier solutions empower e-commerce businesses to elevate their customers' experience. Not only does Naomi aims to solve the pain points of e-commerce players, but she is also determined to streamline the entire process of shipping. 
3. Michelle Lau (Founder & CEO, CliqNship)
Michelle is one of those women entrepreneurs who can balance a pressure-intensive technical task with a joyful personal life. While she's the best example of being a hard-working entrepreneur, her aura to persuade clients across all levels makes her one of a kind. Coming over to her entrepreneurial journey, she started cliqNship for more than 10 years now. cliqNship is the leading logistics solutions provider in the Philippines, which specializes in delivering shipments with just "1-CLIQ".
4. Ghazal Alagh (Co-founder and Cheif Innovation Officer, Mamaearth)
Who can forget one of our favorite Sharks from Shark Tank? 
Ghazal, hailing from Haryana in India, co-founded Mamaearth with her husband Varun Alagh after completing her post-graduation from Punjab University. Mamaearth is the leading Indian beauty brand that creates mum-baby-friendly, toxin-free products. While she and her husband were expecting their first child, they struggled to find chemical-free products for mothers and their infants. To fight this issue, Ghazal was determined to offer safe and chemical-free products. And that's when Mamaearth was established. Today, it's one of the leading skincare brands in India. 
5. Malini Singhal (Co-founder & Director, Zink London)
Based in London, Malini saw a gap in the Indian market for western clothing. While spending her time in London, Malini realized that women in India should also be familiar with comfortable western wear. She was inspired by many big fashion labels that create fast fashion. Striving to create a similar concept, Zink London came into the picture after a lot of research and struggle. Zink London is a leading fast-fashion brand that offers compelling yet trendy fashion. 
6. Vineeta Singh (CEO, SUGAR Cosmetics)
Another Shark from the platform of Shark Tank? Why not! 
Vineeta, after graduating from IIT-Madras and IIM-Ahmedabad, declined a 1 crore job offer to start her own business. While she was always passionate about establishing a consumer business for women, she founded SUGAR Cosmetics, which is her third startup and the most renowned brand in the beauty industry. Coming over to how she started SUGAR Cosmetics, Vineeta's second startup, FAB BAG, led her to connect with like-minded women, who were fond of makeup products. There she realized that most of the makeup brands didn't suit Indian skin tones perfectly. That's when she came up with her own brand idea, and made SUGAR Cosmetics one of the successful brands in India. 
7. Shivani Poddar (Co-founder and CEO, FabAlley) 
Shivani Poddar completed her undergraduate degree from Hindu College and then did her MBA from one of the prestigious business schools in India, the Faculty of Management Studies (FMS, DU). While she consistently topped in her academics, her entrepreneurial journey was waiting for her to establish her footprint. Furthermore, she had been a part of the leadership program at HUL and specialized in the commercial and supply chain function. Currently, she's a co-founder at FabAlley. Her supply chain management background and undying passion made her take FabAlley to new heights. 
8. Bela Gupta D'Souza (Founder, Edamama)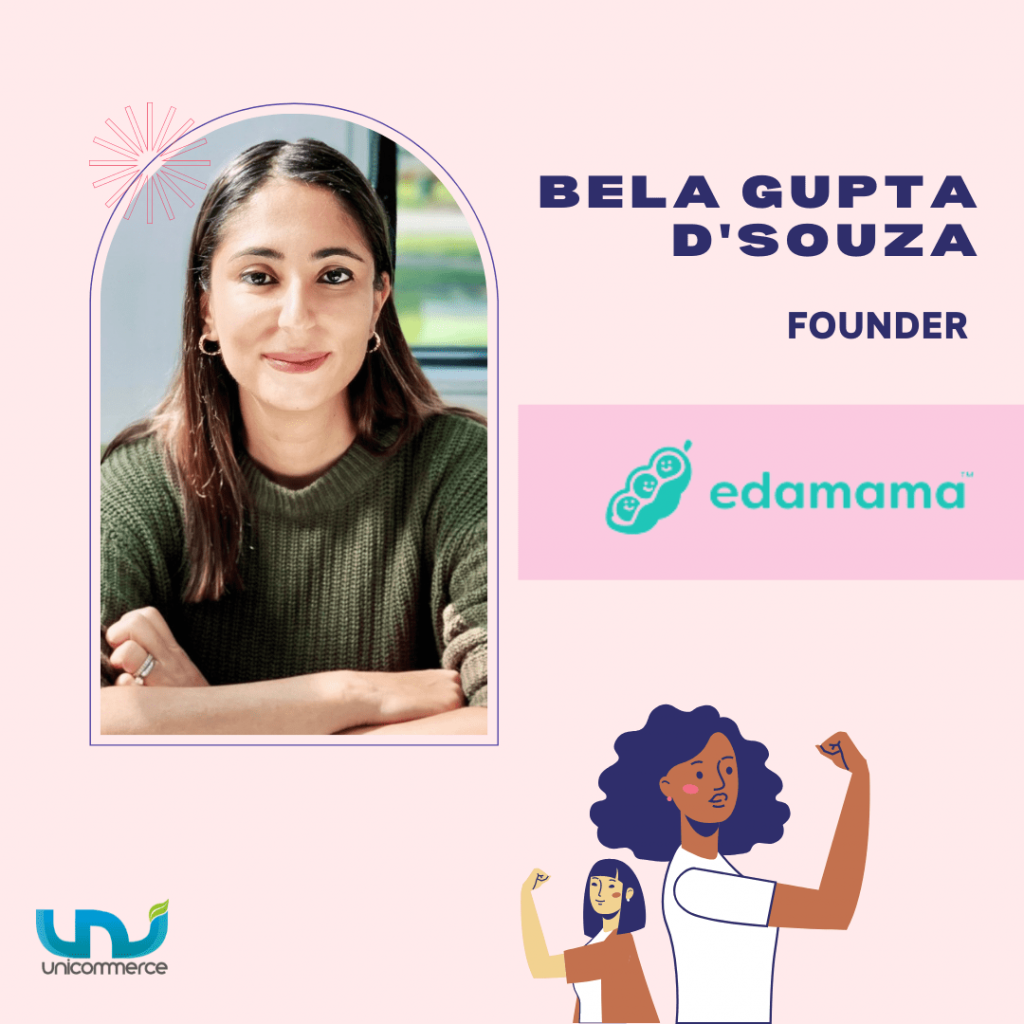 Turning her passion—parenting–into a meaningful venture that supports and inspires women, Bela wanted to do something for women across the world. Originally from India, Bela immigrated to Japan with her parents. She graduated with an MBA from Stanford in 2011. In 2020, she founded Edamama, an e-commerce platform designed to bring joy to parenting. And since then she has been growing and taking her brand to new heights.
9. Ainara Kaur (Co-founder, Belora Cosmetics)
Who's a successful entrepreneur? The one who can detect the problem statement and brings a uniquely created solution. Even if the product doesn't hold a monopoly, the major thing that differentiates it from others is the root cause for which it was founded. That's how Ainara's journey as an entrepreneur started. When she discovered that chemicals are used liberally in makeup products, she came up with the idea of co-creating her own makeup brand, Belora Cosmetics, internationally-certified vegan & cruelty-free makeup, loved by celebs & influencers. The brand guarantees vegan & cruelty-free beauty (makeup and skincare) products. 
10. Zaiba Sarang (Co-founder, iThink Logistics)
Zaiba believes in the mantra of  "never leave anything to chance."
Zaiba was born and brought up in a town where people struggled to get a better education and medical requirements, which inclined her to help those in need. While growing up, she gained as much knowledge as she can from books and people along with the years of hard work. While she successfully completed her graduation in computer science, she worked with a few organizations to brush up her skillsets. After that, she co-founded a shipping and logistics platform, iThink Logistics. iThink Logistics is a Mumbai-based courier company that provides best-in-class shipping services. 
With that, Unicommerce admires and respects all the hard-working and strong women, who were always determined to make a difference with their skillsets. They didn't let the gender-role conflict and stigma come their way and affect their journey. Right from Harini's struggle to provide chemical-free products to Zaiba's determination of helping others, these women have not only posed an example for all of us but also inspired us to perform better in our lives. 
We might have missed out on some other hard-working women, who have done their best in their journeys. We sincerely apologize to them and hope that women across the world keep achieving success. Moreover, the whole team of Unicommerce compliments you on your achievement and wishes you all a very Happy International Women's Day.