The e-commerce market is ballooning in Southeast Asia like never before. While most of the penetration in e-commerce is from urban consumers, the growth opportunities are targeted to lure consumers from tier-2 and tier-3 cities in a few years. 
From the growing consumption of online marketplaces to e-tailers going digital from their brick and mortar stores, the entire region is flooded with the demand for e-commerce. As per e-Conomy SEA 2021 report by Google, 40 million more internet users came online in 2021 while bringing the digital penetration to 75% in SEA. Additionally, 350 million consumers in SEA have made at least one purchase online last year.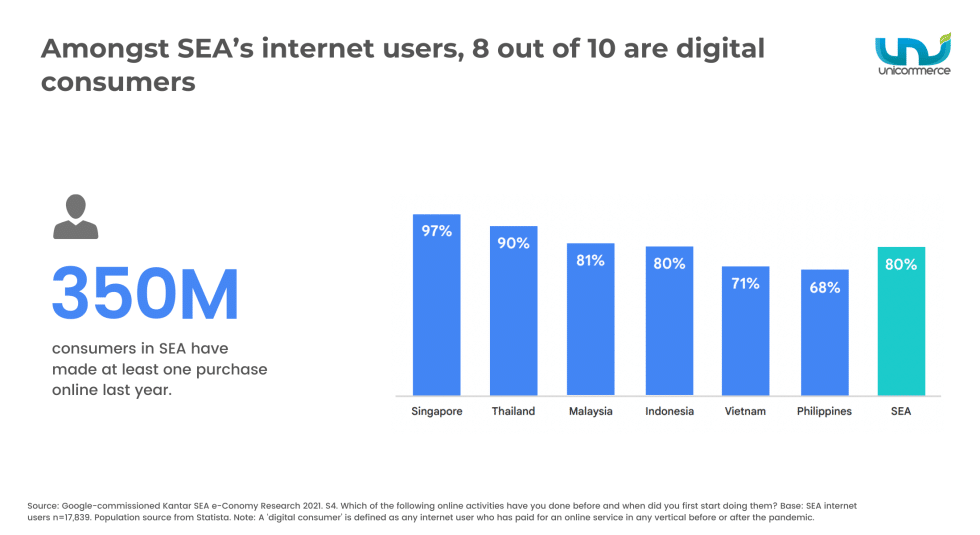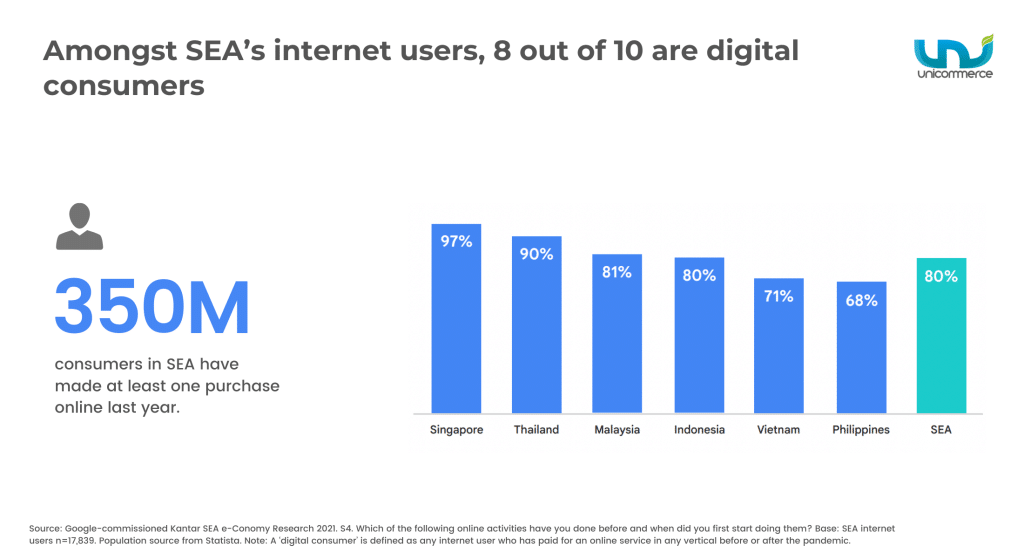 So do you not want to leverage this underlying opportunity? 
Are you looking forward to starting your e-commerce journey? Or maybe you are looking to expand your e-commerce business in the region? If yes, then Shopee is the right fit for your business. 
Now the question is, what exactly is Shopee? 
With absolutely no commission and listing fee, Shopee is a mobile-only e-commerce platform in Southeast Asia that pays extra attention to enhancing both buyers' and sellers' shopping experiences. Covering seven markets of Southeast Asia, including Malaysia, Philippines, Vietnam, Taiwan, Singapore, Thailand, and Indonesia, Shopee has its presence all around Southeast Asia. 
The marketplace has been predicted to be the top player in the coming years as it records almost 457.9 million visits per month, making it one of the leading platforms in the SEA. Additionally, the third-quarter report by Sea Limited documents that Shopee recorded gross orders of 1.7 billion and a GMV (gross merchandise value) of $16.8 billion.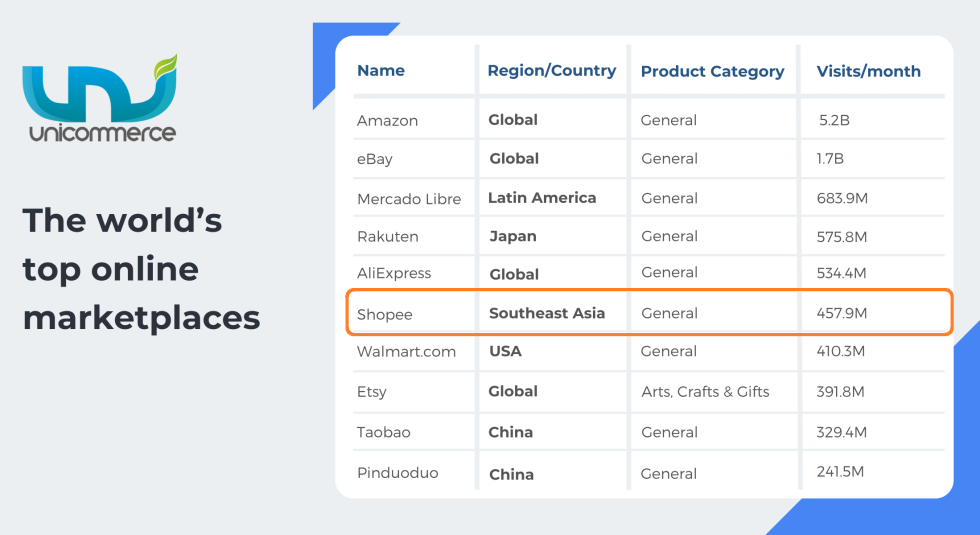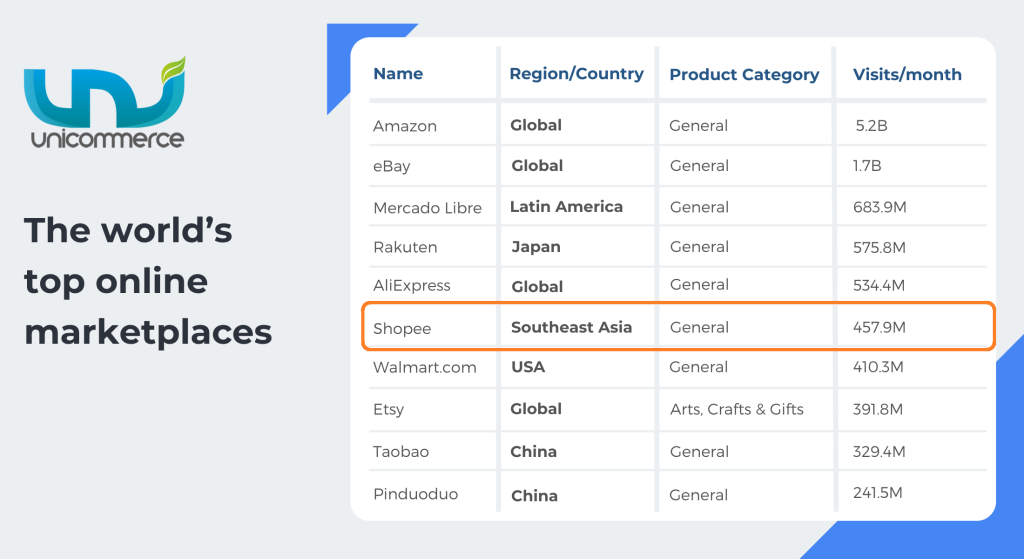 Why should you sell on Shopee?
Shopee is a kind of marketplace where sellers give extra attention to their brand reputation as there's a scope for enhancing buyers' shopping experience to the most. Want to know more about why Shopee is the best for your e-commerce business? We have got you covered!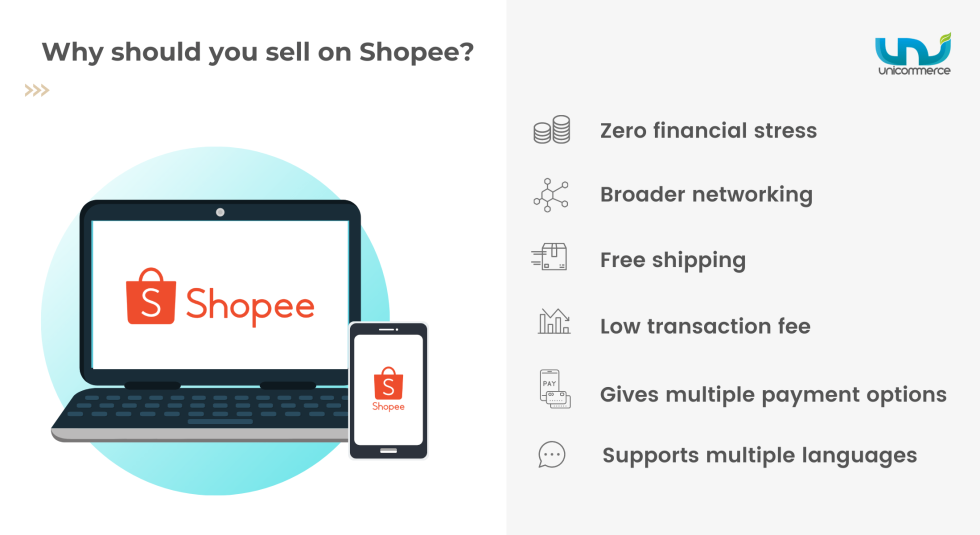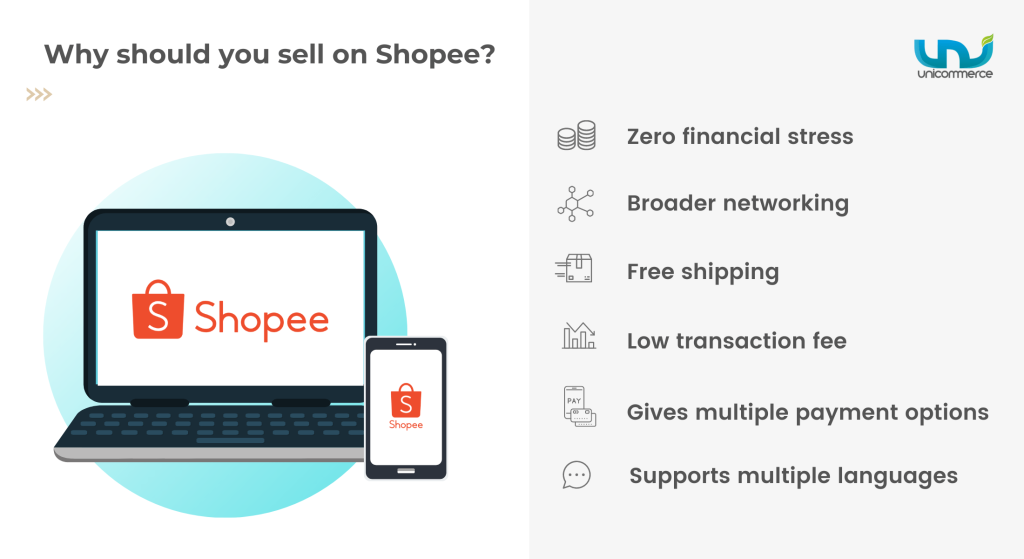 Zero financial stress:

With a commission-free and no listing fee model, Shopee offers you an amazing marketplace without any financial overload. However, if you want to expose your portfolio to a wider audience, you can always go for paid advertising. 

Broader networking:

Shopee has a broad presence across ASEAN countries. So if you choose this marketplace, you're going to represent your brand to a border customer base, which is a good opportunity for brand expansion.

Free shipping:

With Shopee, you can enjoy the perks of no shipping cost, selling your products at cheaper prices while luring more customers than you can gain via any other marketplace. (

Note: Shipping may differ by country and regulations.)
Low transaction fee:

Shopee involves a transaction fee of 1.5%, which is very cheap when compared to the commission of other marketplaces, which revolves around 2% to 8%. 

Gives multiple payment options:

Sellers can offer a plethora of options to their customers as Shopee accepts bank transfers, ATM transfers, Debit and Credit cards payment, Over-the-counter (OTC) payments, Cash on Delivery (COD). 

Supports multiple languages:

Shopee offers a truly multilingual experience by serving operations in six languages, making it best at the global level. 
Hot tip: If you are confused about what products you should sell on Shopee, then here are a few top-selling product categories: Fashion, Home and Living, Baby products, Mobile phones, and accessories, Health and beauty, etc. 
Step-by-Step Guide to Become a Seller on Shopee
There are two ways to sell on Shopee. You can sell on the platform either through the app or via the website. Both ways are quite easy and similar to each other. Let's first check how to sell via the Shopee app.
#1 Start Selling On Shopee Via App
Step 1 – Click on the sign-up button and put the important details while verifying your phone number. 
Hot tip: It's important to provide your number, else you won't be able to sell your products. 
Step 2 – List your products by going to the Me tab and clicking Start Selling. There, you can select Add New Product where you can insert product images and information related to your product, such as product name, details (size, type, etc.), category, attributes (price, stock, variations, weight), and shipping details. Once it's done, click on Submit.
Hot tip: Add high-quality images because you know how customers love to get in-depth visual details of the product they want to buy. It increases the chance of selling. Moreover, you must put emphasis on curating precise and concise product description that has the power to catch attention. 
Step 3 – Complete your shop set up by going to Seller Assistant and then Shop Profile. There, choose your Shop Name, which should be both unique and easy to memorize. Then add up to 5 images or videos of your brand. The last step is to add the description of your shop, highlighting your USPs, history, and shipping location. The next step is to Save. 
Read how Businesses are growing with Unicommerce –
How PayO Asia achieved 10X Growth in Sales?
How Ellana Cosmetics achieved 99.99% Order Fulfillment Rates?
#2 Start Selling On Shopee Via Seller Centre
Step 1 – Start by creating an account on shopee.com.my and click on Sign Up. After that, add and verify your phone number and email ID. 
Step 2 – The next step is to set up your shop. For that, you need to go to the Seller Centre where you can go to Shop Profile. Then you need to choose the shop name, which is unique and easy to memorize. After that add up to 5 images and videos. Lastly, you need to add a description, highlighting your shop's history, USPs, and location. 
Step 3 
Your next step is to add your product. Go to the Seller

Centre

and click on

Add New Product.

There you can add the product name and three categories will appear automatically. You can either choose them or configure them as per your choice. Then click

Next. 

After that, you need to add information about your product, including Product Name, Product Description, and Product Attributes. 

Then insert the price, stock count, and variations (if any) for your product. Your next step is to take high-quality photos. 

Lastly, update shipping settings, such as weight, dimension (parcel size), and shipping fee. Then

Save and Publish

once everything is done. 
Hot tip: Shopee offers you multiple fulfillment models, so you can choose any of the below models as per your preference.
Fulfilled by Shopee
Third-party fulfillment centers
4 Ways to Manage your Operations and Increase Sales on Shopee
The most important aspect of selling over Shopee is the way you manage your backend operations. If you know how to smoothly manage them, you can seamlessly increase your sales. Here are a few tips for you to grow your business sales on Shopee.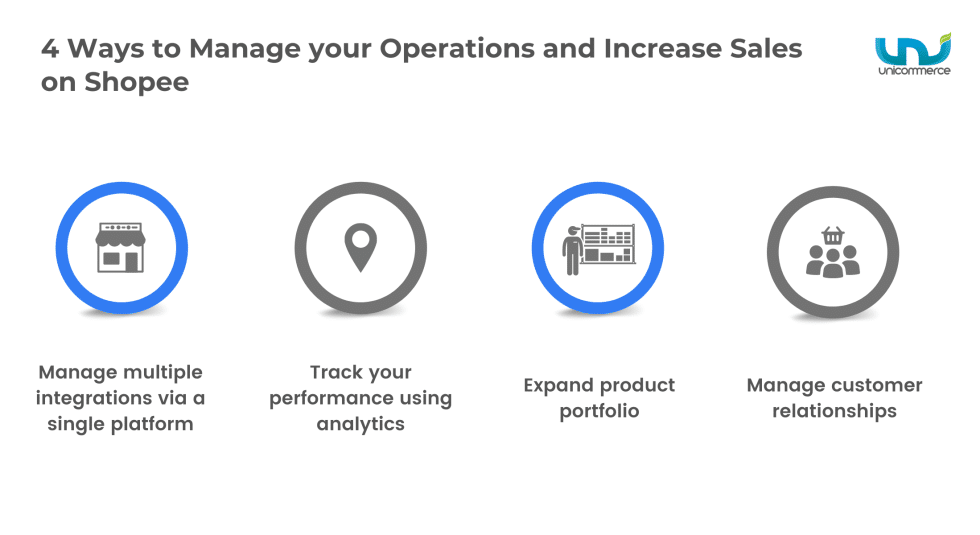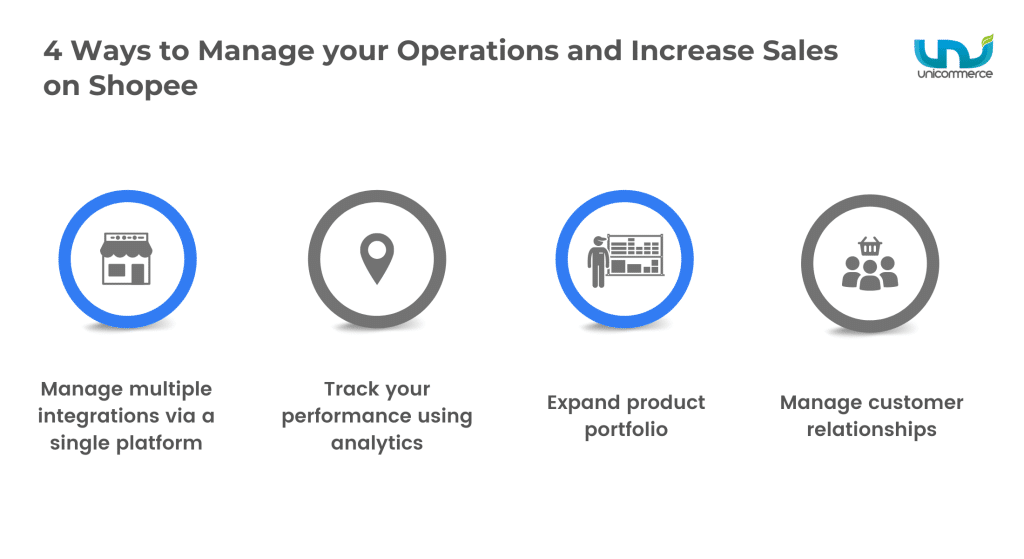 Manage multiple integrations via a single platform: Right from accounting to CRM, you can perform a plethora of tasks by integrating your Shopee with a supply chain technology platform like Unicommerce. With multiple integrations, such as ERP/POS, accounting, and more, you can manage your order and inventory management easily. 
Track your performance using analytics: Choose a platform that offers your in-depth reports and dashboard so that you can analyze your orders, inventory status, returns status, and more. Some platforms offer inventory snapshots to let you learn the availability of stock in the warehouse. 
Expand product portfolio:

Insert a variety of products while updating your product line with a catalog manager. You can bring diversity to your products by seamlessly syncing your catalog using a backend management system. 

Manage customer relationships:

Track your order routinely and offer an immersive shopping experience to your customers by fulfilling their orders timely. This lets you maintain a long-term relationship with your customers, increasing the customer retention rate. 
To conclude it all, if you are serious about starting your own e-commerce business or expanding your product line in Southeast Asia, then there's no better platform than Shopee. While it has a presence across buyers in Southeast Asia, it offers many benefits. Moreover, you must optimize your offerings via tips we have curated at the end. Apart from backend operations, you can indulge in marketing and account management activities to enhance your virtual store, which is necessary to pull off buyers' attention on Shopee.
Recommended Read:
1. How To Sell on Amazon in the Middle East?
2. Top Multi-Warehouse Management Challenges & Solutions to Overcome in UAE & Saudi Arabia
3. How can you overcome Supply Chain Challenges in the Philippines?
4. Order, Inventory, And Logistics Management In The UAE – Challenges & Solutions
5. How to Sell on Lazada?