The Middle East is becoming a magnet for online businesses, especially after the onset of the pandemic as people have become quite familiar with online channels. As per a report by Bain & Company, e-commerce in MENA is expected to reach $28.5 billion by 2022. 
While buying patterns have changed completely, people's expectations in regard to online shopping have also elevated. Now you must be thinking about how you can leverage these growth patterns, and deliver the best quality services to your customers while scaling your business to its full potential. 
The best way to align your business with the latest trends while yielding amplified results is that you must start selling on Amazon.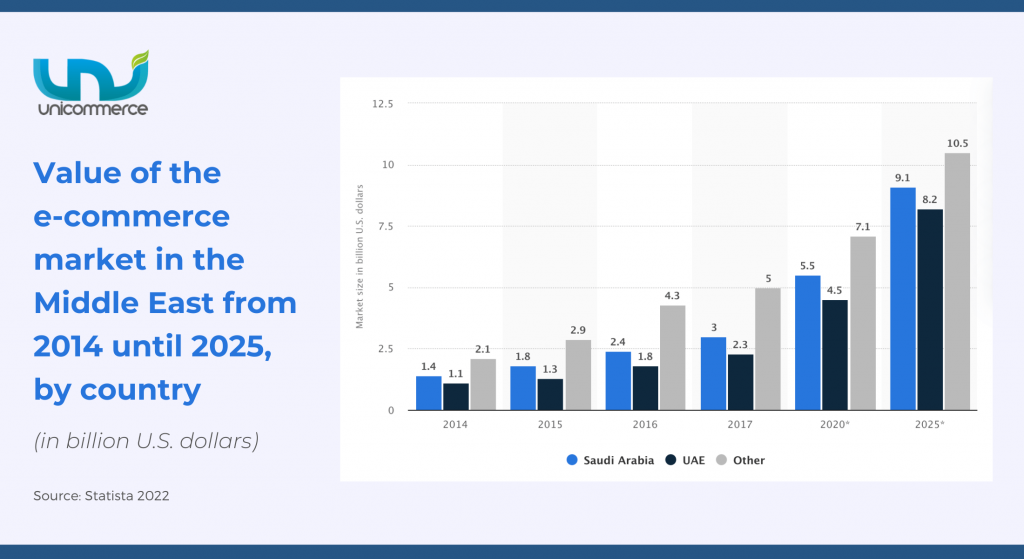 Why Should You Sell On Amazon In The Middle East? 
Being one of the most popular marketplaces in the entire MENA region, Amazon has not only dominated multiple markets but is also one of the reasons for the increasing demand for online shopping in the region. Moreover, the marketplace has been present in the region after acquiring Souq, which was the best online shopping site in Dubai. 
As the platform has been gaining popularity day by day, research by Podean reflected that Amazon UAEhas clocked around 43.6% of shoppers in 2020 while KSA reflected that Amazon Saudi Arabia is the most popular online retailer with 64% of shoppers shopping daily. With that being said, there are many other benefits that Amazon has over other marketplaces as you get: 
Fulfillment Support:

Having its own fulfillment model, Amazon provides end-to-end logistics support to businesses at an affordable fee. 

Immediate Exposure:

Businesses get

immediate access to multiple buyers at a single point in time due to Amazon's popularity. 

Promotions and Offers:

Amazon keeps on introducing promotional offers and e-commerce businesses selling over it can take the advantage of it. 

Secured Transactions:

Amazon guarantees safe payment processing with its seamless and safe payment infrastructure that allows sellers to sell without any worry of cyber fraud. 

Multiple Payment Options:

Amazon gives a plethora of payment options, including

credit cards, bank transfers, e-wallets, invoices, direct debit, etc.

Simplified Listing:

Having an easy-to-use infrastructure, businesses can list their products over the platform with ease. 
Step-by-Step Guide to Become a Seller on Amazon in the Middle East (The UAE & Saudi Arabia)
1. Choose your business type: Before we begin with registration, you must understand that there are two ways through which you can sell on Amazon. You can either sell as a 'brand owner' by manufacturing your own product under a private label or you can sell as a reseller by finding the popular products that already exist and listing them over Amazon. 
2. Choose your Fulfillment Strategy: Your next step is to select which fulfillment strategy suits your business the most. Amazon offers two fulfillment strategies: You can either sell on your own while maintaining inventory and delivering products to end-customers, or you can let Amazon take the responsibility of your orders (right from packaging, labeling to picking and shipping) via Fulfillment by Amazon (FBA). 
3. Registration Formalities: Now that you have decided to sell across Amazon, your next step is to register on the platform. Amazon offers two models (Professional and Individual), you can choose between the two as per your preference then complete your registration by providing details, including: 
Email address of business or Amazon customer account  

Phone number 

Government-issued national ID (e.g. Emirates ID)

Bank account number, 

For Businesses

– Trade License if you are an owner and a Power of Attorney only if you are a legal representative  

For Individuals

– Either of recent bank account statement, credit card statement or utility bill
Amazon, while gaining great popularity across the Middle East, is offering competitive pricing to the sellers. Find the Fees & Pricing details from here: UAE & KSA
4. Activating Account: After the registration is complete, the Amazon team will verify the documents within 48 hours. After that, you will have the access to your Seller Central account. 
5. List Products using Seller Central: Seller Central is a portal where you can add product information, update inventory, manage payments, and more. Moreover, it's a place where you list your products.
Amazon has some specific norms and guidelines while listing products. So you must fulfill them before listing your products. 
6. Create Product Detail Page: Your next step is to create a product detail page where your offered details will be displayed. The page includes the title of your product, 3-4 images, any variation in the product available, crisp information about the products in bullet points, and more. 
7. Deliver your Products: Get ready to transport an enhanced customer experience by fulfilling the last step. 
4 Strategic Ways to Increase Your Sales on Amazon in the Middle East
While it is very crucial to learn to sell on the platform, it's equally important to learn the ways of increasing sales and managing operations. We have culled out a list of a few techniques to grow your e-commerce business with Amazon. Read on!
1. Inventory management
Start with a unified panel that can allow you to manage inventory levels so that you can manage to avoid stockouts while amplifying the business profit margins. Moreover, with a centralized platform like Unicommerce, you can update your stock over Amazon while minimizing order cancellations. 
2. Order management
Allocate orders automatically with order management software to fulfill them quickly. You can also leverage barcode scanning technology to avoid any sort of confusion, eventually reducing both order returns. 
3. Diverse catalog
Add a wide variety of products by leveraging the cutting-edge technology solutions of platforms like Unicommerce that give "catalog manager" to handle multiple catalogs. Moreover, bringing diversity in terms of color, shape, usage, etc., will also enable you to fascinate your customers. 
4. Seamless integrations
Connect with best-in-class service providers, including shipping partners, ERP systems, etc., by integrating your system. Integrations also enable you to simplify routine tasks, such as accounting, and more. 
If you're serious about scaling your business across the platform, then there's no better time than now because the Middle East online shopping scenario is growing like never before. While Amazon is the best way to become a successful seller in the area, you must optimize your offerings using the tips we have curates, else, your hard work will go in vain. So, go on and get ready to boost your business in the Middle East with Amazon.
Read how Businesses are growing with Unicommerce –
Related read: