E-commerce was once the newest way of doing business, and for early adopter companies, bringing customers on board was their biggest challenge. But as it became more mainstream, companies quickly realized that the real challenge lies in managing order operations across multiple sales channels. With increasing competition, customer experience becomes a top priority, and an excellent way to ensure it is to manage and fulfill orders efficiently.
That is why an order management system becomes indispensable for service excellence in e-commerce. A good e-commerce order management solution enables effective inventory management and indirectly reduces the liability of cancellation and returns. Millions can be saved in operational costs, and billions can be added to the brand equity if the company has a compatible e-commerce order management platform.
However, there are some inherent challenges of order management systems that every e-commerce company has to face. Overcome these challenges and build a sustainable e-commerce model by identifying and resolving these challenges.
The Seven Common Challenges of Order Management System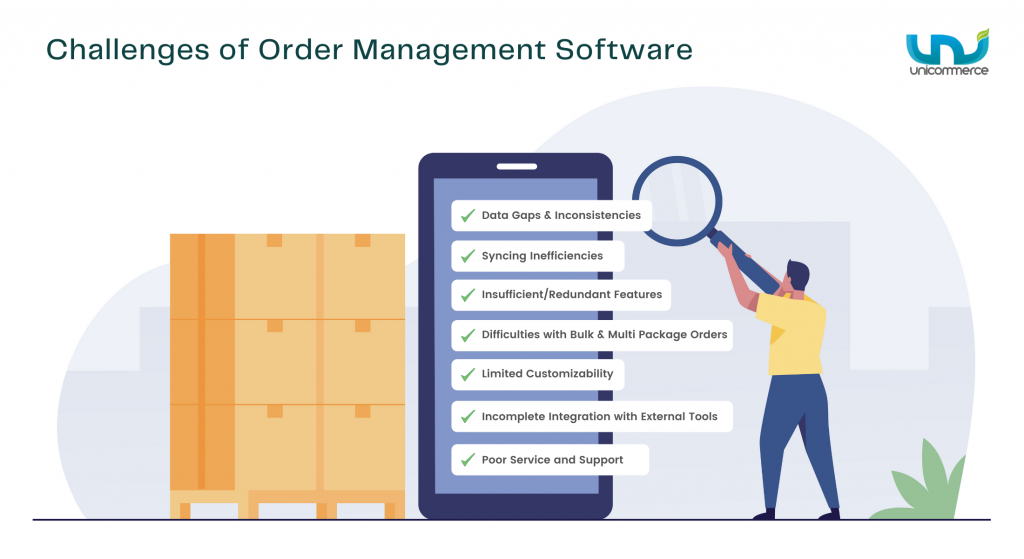 1. Data Gaps and Inconsistencies: As an e-commerce business scales and services multiple markets through multiple channels, millions of touchpoints become susceptible to data gaps and inconsistencies. Due to human errors and inconsistent logic, even a great e-commerce order management software may perform at a less-than-optimal level. Data gaps can lead to order cancellations, deficient order fulfillment, and diminished customer experience.
2. Syncing Inefficiencies: If bi-directional syncing of data is not done properly, users accessing the order management system from multiple locations can struggle with communication gaps. Information related to product inventory, pricing, discounting, etc., may not be recorded accurately. Slow or erroneous syncing of data can also cause shipping and ordering mistakes, harming operational costs.
3. Insufficient or Redundant Features: Every order management system comes with a set of features to handle the entire order generation and fulfillment process. If all the required features are not part of a single platform, external tools or software plugins must be integrated. At the same time, redundant features may cost the company and complicate the order management process unnecessarily without adding any value.
4. Difficulties with Bulk and Multi Package Orders: Whether the e-commerce business model is B2B or B2C, bulk ordering and multi-package ordering are essential to business growth. However, bulk or multi-package orders are often complex and take special care to fulfill. When order management systems don't factor this into their features, the company is forced to handle the process manually.
5. Limited Customizability: An e-commerce order management solution is typically selected for the standardization and consistency it brings to operations, supply chain, and logistics. That is what builds the foundation of quality service. However, companies may often wish to customize their order management system based on the business model and customer expectations, posing a big challenge as most e-commerce order management platforms offer no-to-low customizability.
6. Incomplete Integration with External Tools: The omnichannel approach is no longer a prerogative for e-commerce. Instead, it has become inevitable, meaning that as the business expands its presence across channels and platforms, the existing order management system may have to integrate with external tools. Incomplete integration or incompatibility at this stage can negatively impact the omnichannel experience for customers and the company.
7. Poor Service and Support: In addition to software or platform-specific challenges, an order management system can also pose a trouble when the backend service and support are not up to the mark. While some e-commerce order management software solutions are user-friendly, others may need assistance from the team of that particular service provider, especially when deployed at the enterprise level and integrated with other existing CRM and ERP modules. If the team behind the software is not prepared to provide the needed tech support, the solution can soon become the problem.
Read how Businesses are growing with Unicommerce – How Urban Company Achieved 8X Growth in 27 Months with Unicommerce's Warehouse Management Solution!
Finding the Right E-commerce Order Management Software
These challenges come at a great business cost, and it is necessary to strategize against them while selecting an order management system. To find a robust e-commerce order management solution that best suits your business needs, look for the following features:
Customized Reports and Dashboards:

All inventory-related information should be accurately captured, cataloged, synced, and shared. The OMS should generate comprehensive reports with deep insights into your order operations.

Partner Integrations:

The OMS should facilitate

seamless integration across global marketplaces, cards, shipping providers, POS, and ERP.

There should be minimal delays and zero information loss.

Centralized View of Order Operations:

The OMS should allow increased visibility for the entire supply chain and make information view possible from a centralized point.

Customer Centricity and Service Excellence:

The OMS must provide extensive customer service and support to facilitate enterprise-wide adoption, usage, maintenance, and regular upgrades.
Read how Businesses are growing with Unicommerce – How Unicommerce's Order and Warehouse Management System Enabled MPL Sports to Attain 90%+ Fulfillment Rate?
Final Thoughts
In conclusion, if these challenges of order management systems are prevalent in the existing platform, strategic measures must be taken to overcome them. While smart integration and process automation should be explored for existing order management systems, a new platform must be considered if the challenges persist. The end goal should be finding a solution that ensures seamless order fulfillment, cost optimization, and zero process failures.
Schedule a FREE demo with Unicommerce's Order Management consultants.
Related Read: