Unicommerce Partners With Ginesys To Enable Omni Channel Retail Solutions For Brands
Unicommerce, a leading player in e-commerce enablement software for warehouse management and omni channel services has entered into a strategic collaboration with Ginesys, one of the most preferred retail management software and Point-of-Sales (POS) solution provider to fashion & lifestyle brands and supermarkets.
This association aims to enhance opportunities for offline stores and e-tailers to engage and interact with customers looking to experience a brand through an omni channel way. With the flexibility offered by omni channel retail, customers will not only enjoy browsing products online but it will also enhance their shopping experience by enabling "touch and feel" of products through offline stores.
"This association is a step in the right direction, thereby enabling brands to achieve their omni channel ambitions. With the consumers interest at heart, we are working towards offering a seamless shopping experience across both online and offline touchpoints. We believe it is important for key solution providers to work together in evolving the retail ecosystem and to ensure that brands are equipped to offer a superior shopping experience to its customers, both online and offline."says, Kapil Makhija, CEO, Unicommerce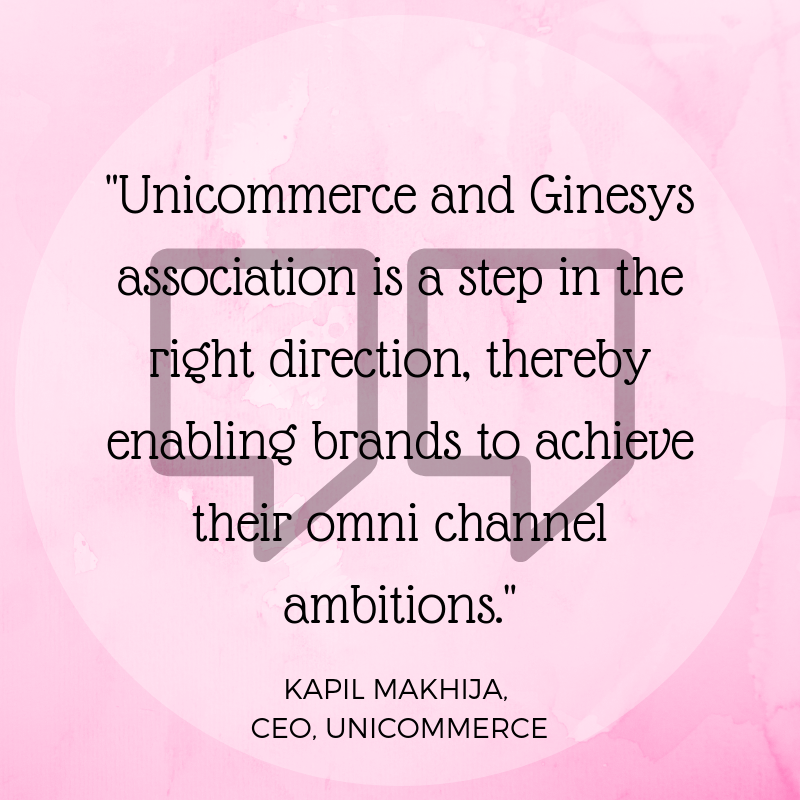 He further adds, "Selecting right processes and technology are essential for enabling a complete omni channel experience and this integration between Unicommerce with Ginesys will ensure that the online and offline systems are always in sync, in terms of inventory and order management benefitting the retailers to service customer demands across both online and offline touchpoints."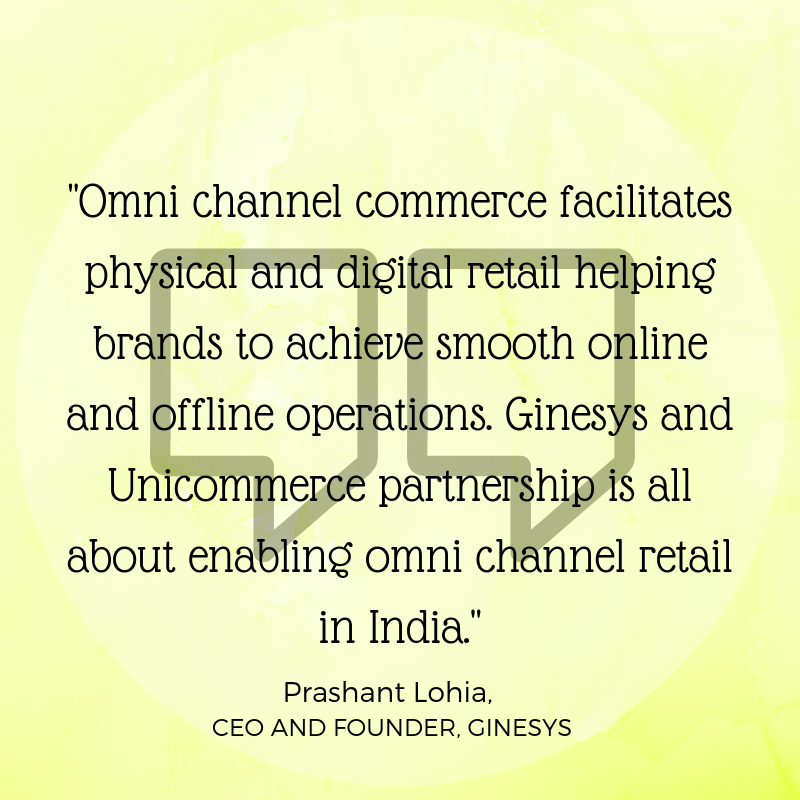 Commenting on the partnership, Prashant Lohia, CEO and Founder, Ginesys said "It is important to understand that both, brick & mortar and e-commerce retail have to work hand in hand in delivering value to consumers. Omni channel commerce not only facilitates physical and digital retail but also builds a strong partnership between solution providers helping brands to achieve smooth online and offline operations. Ginesys and Unicommerce partnership is all about enabling omni channel retail in India."
The news of the partnership was captured by various business media and has been embraced by big brands. Read More: The CEO Magazine
About Unicommerce
Established in 2012, Unicommerce is the Indian market leader in e-commerce enablement software for warehouse management and omni channel services. It provides centralized multichannel and omni channel order, inventory and warehouse management, drop shipment and ERP integration for both online and offline merchants.
Unicommerce offers born-in-the-cloud, highly scalable feature-rich platform with a proven track record of delivering superior performance. In omni channel retail solution, Unicommerce also has features such as Click & Collect, Endless aisle, Order online/ Return offline etc; the omni channel solution reduces overall logistics cost by 15-20% by routing the orders to the nearest offline store and also increases the sales by 8-10% through "in store kiosks".
Unicommerce is the market leader with 15-20% share of the overall e-commerce transactions in India. It is built to handle large scale operations and is currently managing more than 120 million transactions and US$ 1.5 billion in GMV annually. It has emerged as one of the most preferred middleware solutions as it serves over 10,000 registered customers across India, Middle East, South East Asia and South Asia with an average relationship of 3+ years with enterprise customers. Some of its key clientele includes Jabong, Myntra, Lenskart, Carat Lane, Crossword, Da Milano, Forever New, Blackberrys, Aurelia, Metro Shoes, Titan Eye Plus, Linen Club, Classic Polo, Clarks, PCJ, among many others.
Its platform is also seamlessly integrated with more than 100 partners across marketplaces, logistics providers and ERP systems. Few of the key platform partners of Unicommerce are Amazon, Flipkart, Myntra, Shopify, Magento, Delhivery, FedEx, Blue Dart, DTDC, SAP, Oracle, Tally, Microsoft Dynamics Navision, among many others.
About Ginesys
Ginesys is a leading Retail value chain ERP and POS product. Working across the fashion and FMCG supermarkets segments it has built a successful customer base in India with more than 500+ brands and retailers using it. Customers include the likes of Manyavar, Mufti, Global Desi, BIBA, Soch, V mart, among many others. Retailers benefit from all of its modules including Accounts, Warehouse Management, Omnichannel, Loyalty, Wholesales and Production. The company behind the product, Ginni Systems Ltd, started in Kolkata but has now got a national spread with offices in all major metros. It is also rapidly investing in new technologies and partnerships with startups to build up a healthy and viable tech ecosystem in India.
For further information, please contact:
Unicommerce eSolutions Pvt Ltd
Landmark House, Plot Number 65, 2nd Floor, Sector 44, Gurgaon, 122003
Contact Number – +91 +91 828 7790 222
E-Mail: contactus@unicommerce.com