E-commerce businesses thrive on continued revenue growth. Globally in just over a decade e-commerce business has grown in leaps and bounds, and has changed the way how people do shopping. Led mostly by B2C behemoths like eBay and Amazon, the goal of e-commerce businesses worldwide today is to satisfy as many customers as possible alongside continually scaling up their website traffic, thereby increasing their reach. Many of these e-commerce businesses are opting for a multi-channel business model to boost their business, but this has many challenges. Some of the challenges faced by e-commerce sellers in a multi-channel model are lack of consistent branding and messaging across various channels; difficulty with inventory management for each channel and chances of inventory mixup; managing multiple relationships with customers across various channels but it is not only time-consuming but also expensive.
What is e-commerce marketplace integration?
This API-based tool serves as a two-way link between multiple online marketplaces and a single selling platform. The e-commerce marketplace integration facilitate multi-channel sales by combining different e-commerce processes, establishing connections with inventory, and transferring data from multiple channels into a single operational platform in real-time.
It allows you to organise your product lists with various online marketplaces, such as Lazada, Noon, Walmart, Amazon, and more. There are many benefits of e-commerce marketplace integration. This tool can allow you to manage your day-to-day activities, such as uploading new product details, downloading pending orders, printing invoices, generating labels, printing dispatch manifests, tracking orders and shipments, checking and updating inventory stock, and more.
What are the Benefits of E-commerce Marketplace Integration?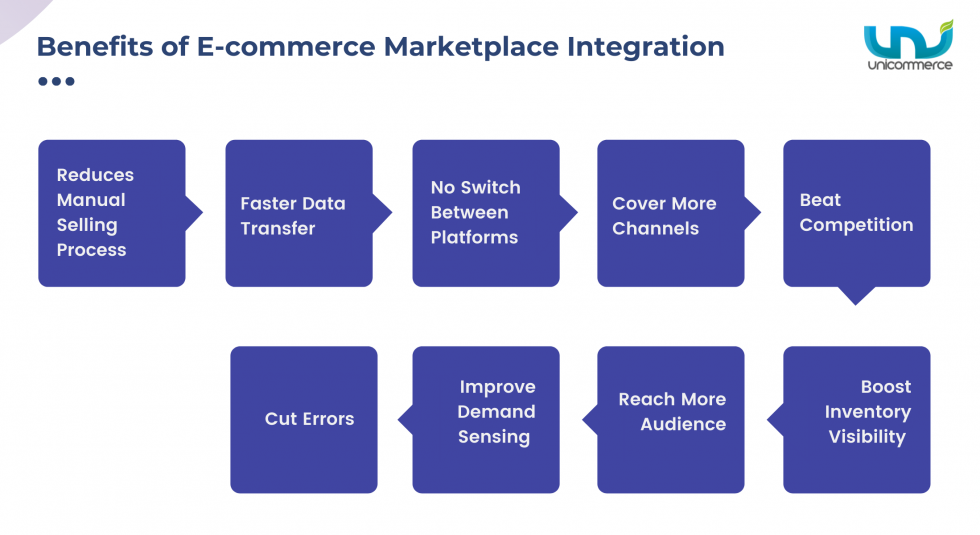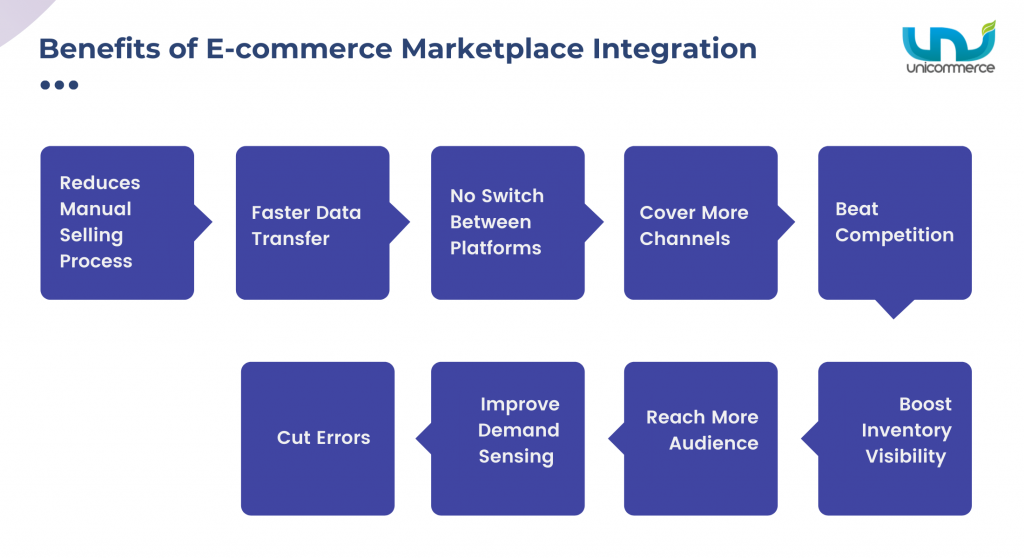 1. Reduces Manual Selling Process
E-commerce marketplace integration eliminates most manual processes by streamlining the entire workflow, including product upload, figure updates, order management, etc.
2. Faster Data Transfer
Real-time connection of APIs of all seller platforms ensures the data flow is fast and secure. Each data transfer call is validated. It eliminates friction in data flow between marketplaces to online stores and inventory, cutting down errors.
3. No Switch Between Platforms
One of the best benefits of marketplace integration is that it eliminates switching between platforms to manage activities. Instead, you can manage all activities from a single dashboard. E-commerce marketplace integration also allows sellers like you to save time and effort by making the selling process much easier. This way, you can devote time to other critical matters.
4. Cover More Channels
Integration increases product visibility through improved listing performance. It gives sellers like you the freedom to connect your portal to many marketplaces.
5. Beat Competition
Another benefit is that it allows e-commerce sellers to compete more efficiently. You can claim the buy box every time by repricing products as needed. You  can also manage discounts and provide consistency across all marketplaces.
6. Boost Inventory Visibility 
Using multichannel inventory control software you can centralise data across all  channels. The biggest benefit is that you can monitor inventory across all of its stocking points. This gives you the freedom to choose the next cheapest shipping location if a default location is unviable or if the default location is out-of-stock product you can deliver it from the next nearest location..
7. Reach More Audience
Another benefit is that selling on multiple platforms empowers to boost brand recognition. It allows you to grab new audiences by displaying your products across multiple platforms, and establishing a brand presence across multiple channels.
8. Improve Demand Sensing 
E-commerce marketplace integration enables to avoid overstocking. It happens due to poor planning and anticipation in demand fluctuation thanks to poor forecasting and data collection. A multichannel inventory control software provides you with  accurate sales forecasts, enabling you to avoid an oversupply or undersupply situation thereby eating into the margins of a business.
9. Cut Errors 
E-commerce marketplace integration ensures a seamless integration of all processes thereby cutting down any chances of errors that can affect your daily operation.
What are the Features of E-commerce Marketplace Integration
?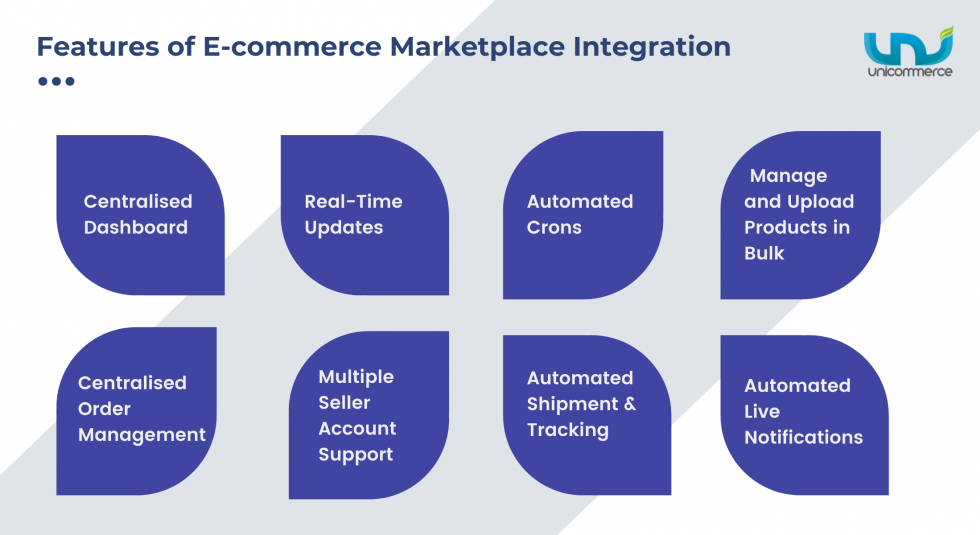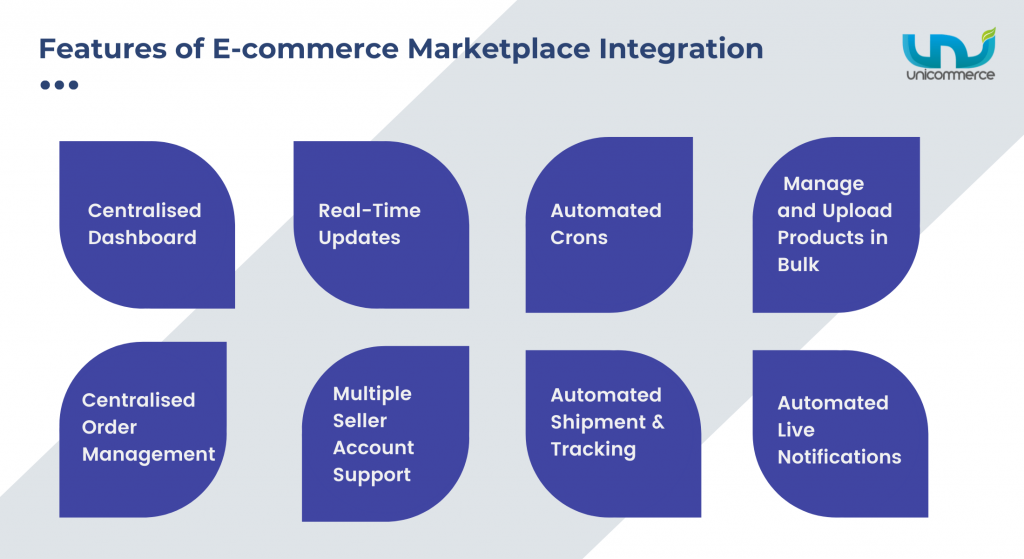 1. Centralised Dashboard
An intuitive centralised dashboard enables you to analyze your sales campaign performance across various marketplaces. It enables tracking top-selling products in the marketplace, account-wise orders summary, recent orders, lifetime sales, monthly sales records, and more. E-commerce marketplace integration enables data flow between marketplaces and inventory via a single dashboard, making it easier for you to take all the necessary actions.
2. Real-Time Updates
Real-time communication between various platforms is one of the essential features of e-commerce marketplace integration. It ensures that all the figures, including inventory, orders, and product details, are updated in real-time. It enables you to eliminates chances of overselling or underselling, allowing you to sell products across multiple platforms by maintaining optimum stock levels.
3. Automated Crons
E-commerce marketplace integration comes with a feature of automated crons that enables eliminating manual errors. Crons are, in reality, commands that nudge the server to execute a predetermined process on time. It saves you the hassle of performing the same functions repeatedly, allowing you to focus on other essential functions. It also allows you to improve the pace of data exchange between various platforms.
4. Manage and Upload Products in Bulk
E-commerce marketplace Integration allows you to upload bulk products from your online store to the marketplace in just one single click. This enables you to manage your product catalogue smoothly without much fuss and dedicate more time towards other important activities.
5. Centralised Order Management
This is one of those features of e-commerce marketplace integration that allows sellers to execute all types of order-related operations like accept, reject, ship, or delete orders from multiple platforms via one centralised location. E-commerce sellers can lose existing or potential customers if they cannot manage online orders on time. A centralised order management system ensures that sellers are not required to log in to multiple platforms to manage their orders.
6. Multiple Seller Account Support
Marketplace integration allows you to easily manage multi-channel accounts through the same marketplace simultaneously, irrespective of geographical boundaries. Using this, you can sell the same inventory using multiple accounts from a single location.
7. Automated Shipment & Tracking
E-commerce marketplace integration facilitates the automatic shipment of inventory. Centralised inventory management software allows you to connect with leading carriers to ensure each order is fulfilled and products are seamlessly delivered to customers on time. You can also track a shipment in real-time using marketplace integration. Once the product is released for delivery, all other details such as billing/shipping address, shipping carrier, tracking code, live location are shared with sellers to monitor from their own web portal.
8. Automated Live Notifications
E-commerce marketplace integration ensures that you get automated live notifications on your web portal. You can get instant updates on any new order received or rejected, low inventory, etc., live on your portal. You can further customise the marketplace for more live notifications.
Conclusion
Marketplace integration in e-commerce is essential for multi-channel e-commerce sellers like you, as it allows you the flexibility to sell across multiple channels through a single platform. It also enables you to consistently target more customers across various geographical regions and get real-time updates in order distribution. Most importantly, it reduces the manual effort of switching between various channels, thereby allowing you to upload products in bulk. It gives you more time at hand to devote to other critical processes.
Find out how Unicommerce has empowered Leading Brands to Succeed –
Related read –