While many eCommerce businesses have transformed the coronavirus pandemic into an opportunity, some are still struggling to manage their inventory and order fulfillment rates. The state of fashion 2021 report by McKinsey & Company says that businesses need to reduce complexity and find different ways to escalate full-price sell-through to reduce inventory levels by taking a demand-focused approach to their assortment strategy.
Unlike last year, this year, the eCommerce sector per se has not been able to escape from the onslaught of the pandemic. In the recent article by ET Retail, the fashion and accessories sales dipped 22%. However, people have tasted the benefits of online shopping, making their appetites grow continuously in the long run. 
The apparel industry has always been persistent to dress up in the changing scenario. Change has always been the wardrobe essential of this industry, happening almost every quarter of each year. According to the 2021 Fashion Report of Unicommerce, the online fashion industry witnessed an order volume growth of 51 % and a gross merchant value (GMV) increase of 45% in FY21 as compared to the previous financial year. With a rotational shift happening in the industry, Unicommerce decided to go ahead and curate eCommerce fashion trends, challenges, opportunities, and solutions that can help you manage and schedule your business action plan in 2022!
Let's take a look at the growing trends, challenges, opportunities & solutions in the apparel industry.
1. Trends in the Apparel Industry
Impact of Covid-19 on the Apparel Industry
"While the last few years have been dominated by Indian wear, this year athleisure is shaping the market."
With getting our hands on quirky printed masks, there has definitely been a drastic change in the Fashion and Apparel Industry trends. Everything has been changed by the onslaught of this pandemic – going to the office and working there has become work-from-home, conferences and meetings have taken a new shape of Zoom, Google meets, etc. With the constant shift, our dressing sense has changed too. Gone are the days of swooning over fancy garments as the days to wear cotton pants and hosiery t-shirts are growing enormously.
Athleisure has surely seen a major rise owing to the 'new normal' situation. In the 2021 Retail Resurgence report by BCG, the wardrobe of consumers will continue to move towards comfort wear, specifically athleisure. BCG expects the apparel market to touch ₹5,781 billion by 2024.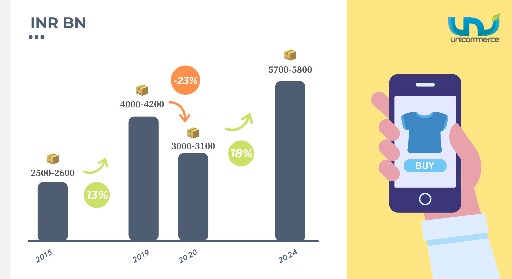 While the demand for athleisure upsurges, there are certain segments that have seen constant growth amid the pandemic. Here are a few trends to watch in 2022 apart from the growing demand for athleisure.
Sustainable and Ethical Fashion:

The fashion and clothing industry is often criticized for increasing environmental pollution. With the onset of the coronavirus pandemic and rising issues of climate change, the environmental concerns have gradually increased, making people swear by sustainable clothing materials. Post COVID-19, there has been a rise in the number of people buying high-quality products produced using recycled materials. Some of the fashion brands such as Mio Borsa, Rengé, InSom, Liva, No Nasties are changing the concept of conscious fashion in India.
Lingerie and Intimate wear:

As personal hygiene has become a hot topic for both men and women, this segment has also seen a gradual surge in the demand. Moreover, the lockdown is also one of the reasons why the demand for lingerie and innerwear is increasing. Leading lingerie and innerwear brands such as Enamor, BodyCare, Amante, Clovia, Jockey, etc. are adapting to advanced technologies to improve their business operations. 
Readymade clothes:

The major trend of the last few years has not been dipped completely. Trending ready-made fashion brands such as Taavi, Libas, Bhama Couture, Aurelia, W, Indya, etc. have occupied a major part of the online retail space. Right from the women's readymade ethnic Kurtas to men's casual and formal wear, the trend is still here to stay in 2022. 
Kidswear: As the coronavirus pandemic is posing a great threat, parents are worried about their kids getting infected, thus avoiding going out and buying clothes from Retail stores. This has caused a huge upsurge in order volume by over 200% order volume growth in 2021. Little Kangaroos, Gini and Jony, Nauti Nati, and Allen Solly Junior are some of the leading brands in Kidswear.
"However, there has surely been a slight change in the product lines of the fashion brands as they have introduced the pandemic essentials into their collections. Some of the fashion brands such as BestSeller, Being Human, Van Heusen, etc. have started manufacturing printed masks due to their high demand in the market."
2. Opportunities in the Apparel Industry
The post-COVID times have supplied great opportunities to the online apparel and fashion industry. Clothes are one of the basic amenities and it wouldn't be wrong to say that this is the only reason why there has been a boom in the purchase of apparel online even during the preventive lockdown. Right from selecting and buying the clothes to returning/exchanging them via online channels, the textile industry is seen to boom at an enormous rate. 
Even the government policies and regulations have directed their focus on this industry. If we take a look at the Union Budget of 2021, the Indian government is planning to set up seven mega parks in the next three years. Not to mention, the government has also reduced the custom duty rates on caprolactam, nylon chips, and nylon fiber and yarn to 5%. These regulations clubbed with the wrath of the pandemic have created plenty of opportunities for the Textile and Apparel Industry in the eCommerce sector.
With lined up opportunities, there come several challenges for simplified apparel eCommerce.
3. Current & Future Challenges and Problems in the Apparel Industry

The new trends, changing consumer habits, and market shifts have shed a light on the new challenges the eCommerce apparel industry is facing in 2022. 
Difficulty in managing customized order allocation and inventory sync

Unable to align warehouse operations manually amid such hard times

Problems in selling pandemic essentials such as face masks in combo packs 

Inability to manage deliveries, leading to higher % of Customer Initiated Returns (CIR)

Hard to align multiple sales channels and offline stores alongside 

Back-breaking for eCommerce platforms to manage multiple vendors

Untimely and inefficient delivery of products

No stock rotation leads to outdated stock

The increased cost of Reverse Logistics

Hard transition to present Taxation policies

Poor management of returns and cancellations
4. Evolving Practices as a Solution to Challenges in the Apparel Industry
Starting up your own fashion eCommerce business has never been easier, especially post the pandemic. Right from managing the inventory and warehouse operations to timely updating the digital attire of an eCommerce store, the aspects are many. But with the advancement of technology, it has become important to adopt some upcoming practices, aligning the sales with your operations.
Following are some of the upcoming eCommerce practices that act as a solution to the challenges you are witnessing during these tough times
Delivering Omnichannel Experiences
It has become rather imperative to provide a seamless experience to the customers on all the touchpoints. Integrating and aligning offline and online channels together helps both the businesses and the customers develop a better relationship. Omnichannel retail not only offers unhindered shopping experiences to customers but also helps in keeping the inventory and stock levels uniform. With its advanced Omnichannel solution, Unicommerce has enabled effortless business operations & tremendous growth for Iconic Fashion India. 
Read to know more about why Retailers Want to Implement Omnichannel Retail Strategy in COVID-19
Serving directly with D2C business model
D2C is quite a recent approach wherein brands deal with the customers directly, eliminating the intermediaries. While many new brands are adopting this strategy, some established brands are switching from traditional business models to D2C models. According to Unciommerce's eCommerce Q3 2020 trends report, the brand's own websites reported a growth of over 78% as compared to 35% from the marketplaces. 
But the question is what makes it so different that almost all the new brands are swearing by this approach? Well, the biggest advantage for a D2C brand is that they can shorten the time to sell the products, giving their customers a better price while earning a higher margin.  Direct to Consumer (D2C) e-commerce allows the original brand voice to come in front, letting brands have a better engagement with their customers. Moreover, the new-age solutions of Unicommerce made specifically for D2C brands like Enamor, Chumbak, etc. to scale on higher revenues.
5. Why Unicommerce?
Unicommerce – Solutions to problems in the Textile and Garment industry
Unicommerce, the #1 cloud-based eCommerce solution is focused on changing the face of Indian Fashion retail.  It is on a mission to automate the largely scattered apparel industry to make it technology-driven, especially during the unprecedented time. Its Order and Warehouse Management solutions help to automate client's supply chain operations for both online and offline businesses (B2B and B2C). Moreover, Unicommerce comes with 150+ integrations; Cart, Marketplaces, Logistics, ERP, and POS systems to manage the needs of Wholesalers, Distributors, Retail Chains, Individual Store owners, and eCommerce sellers to increase revenue and save operations costs.
Unicommerce's robust supply chain technology solutions have resulted in exponential business growth, & improved unit economics for over 10,000+ global marketplaces & brands across India, the Middle East, and Southeast Asia. Some of the notable clientele of Unicommerce in the fashion and apparel industry include TCNS Clothing Co. LTD. (W, Aurelia, Elleven), Oryvo, Brand Studio, Bestseller (Vero Moda, Jack & Jones, Only), Being Human, GAP, GANT, Crocs, etc. 
Below is a quick brief about Unicommerce's offerings, click the links to know more in detail.
Advanced Warehouse Management

– Unicommerce helps track the count of inventory, manage dispatched and allocate orders, making the flow of operations simpler and efficient. Moreover, you get the real-time update of the entire warehouse operations across multiple locations. 

Omnichannel Solution

– Unicommerce offers an Omnichannel Solution so that you can route online orders to the nearest offline store. 

ERP/ POS management

– All the current ERP/POS systems (Tally, Base, Oracle, Navision, SAP, etc.)  get effortlessly integrated into our omnichannel software product

Bundle Management

– Unicommerce has a Bundle Management feature that lets you create combo packs while updating combo products SKUs in real-time across multiple sales channels 

Logistics Integration

– Unicommerce helps brands reduce cancellations and returns as it automates the whole process, ensuring the right product gets shipped to the customers

Unified Vendor Panels – With the Vendor Management solution, e-commerce fashion retailers can seamlessly manage suppliers via centralized login
Centralized Inventory Management

– To enable greater cost savings, the efficient Inventory Management system restrict bad stock while minimizing the risk of overselling

Accurate Report Analysis

– Unicommerce lets you analyze and scrutinize your daily operations with its Dashboard segment. You can track the number of orders fulfilled, Sales achieved, Returns progressed, etc. 

E-commerce Returns Management

– Managing RTO and CIR are not difficult anymore. Unicommerce offers a comprehensive returns management solution through a centralized panel to manage returns across all sales channels amplifying your overall sales profits 

Marketplace Integration

– Having come pre-integrated with 40+ marketplaces, Unicommerce lets you sell efficiently across multiple sales channels such as Amazon, Myntra, Flipkart, etc. 

Simplified Fulfilment – Unicommerce simplifies the process of fulfillment with its fastest and error-free order fulfillment feature
To coincide, the eCommerce brands in the fashion and apparel industry are on the rise. The Apparel industry is entering into a phase where the opportunities are endless, provided the sector is getting constant assistance and support from the government. New and updated practices are required to address the rising challenges. However, online fashion brands must reorganize their business model to cater to evolving demands of the competitive business environment.
Suggested Read: