What is an E-commerce Order Management System?
An Order Management System (OMS) is the key element required to carry out smooth e-commerce and other business operations. OMS works around crucial processes such as buying the right products, marketing, tracking orders, handling inventory, reverse logistics, and more. OMS could be any device, service, tool, or structure used to track and control all stages of a particular process. Your OMS is often in charge of marketing, stock, and satisfaction. That is why having order management software in place is so important. Retail e-commerce is expected to expand from €2.96 trillion in 2019 to €6.54 trillion by 2025, according to estimates from eMarketer, boosting its market share from 13.9 percent to 22.3 percent over the projected period.
An order management system (OMS) not only supports all stages of your company's sales process — right from order generation to customer delivery — but also handles the logistical issues that come with an omnichannel world. An OMS offers a centralized system for managing orders from all sales channels, including retail, web, contact center, mobile, and kiosk. Customers want a consistent and streamlined purchase experience across all channels, such as buying online and picking up in-store (BOPIS). 
There are several issues that contemporary organizations deal with, including uncertainty about the future, constant innovation, government policies, and laws. All of these issues may be resolved via an E-order management system. 
An OMS checks stock levels across warehouses, aggregates order data from numerous channels, and collaborates with third-party logistics providers to get items to the end consumer as quickly as possible. 
There are several hurdles between the click and the customer, including:
Coordination of inventories and orders across numerous channels

Order profiles and shipment schedules that are complex

Monitoring fulfillment

Analytics, reporting, and evaluation
Top 10 Benefits of an E-Commerce Order Management System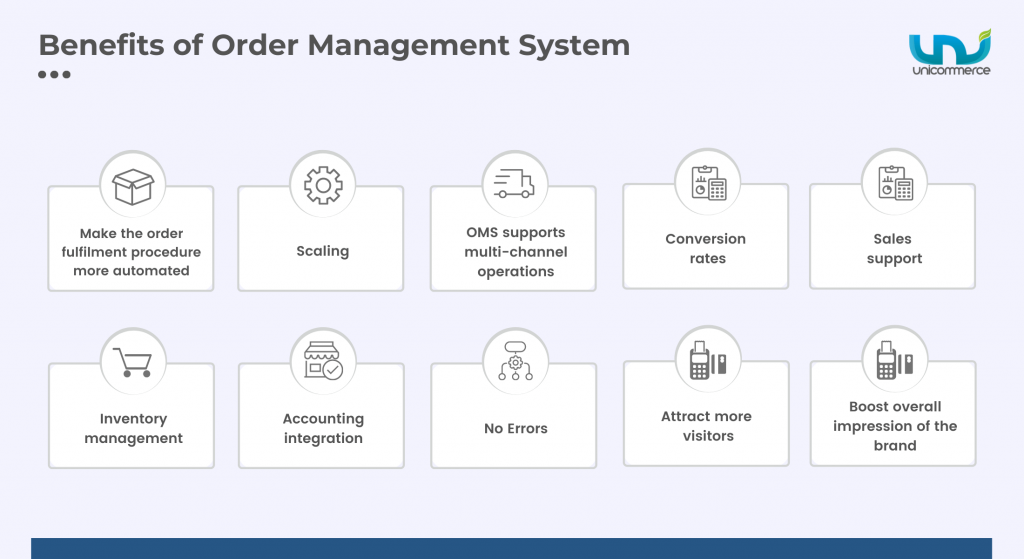 Listed below are some of the benefits of an e-commerce OMS:
1. Make the order fulfillment procedure more automated
Modern order management systems see the whole supply chain as an integrated ecosystem, allowing merchants to automate internal orders through fulfillment.
E-commerce firms may use an OMS to:
Push orders through processing, picking, and shipping as quickly as feasible

Accept payments, independent of the shipping address or order currency

Send order information to distributors or third-party logistics providers for fulfillment
If you complete orders in-house, you may have shipping labels printed automatically. This does not just apply to client orders close to your warehouse. While an OMS may route client orders from warehouses based on their proximity to the destination, it also aids in the scalability of cross-border sales.
2. Scaling
Another benefit of an OMS is that it adapts to changing requirements. Because the program is designed to offer flexibility locally or worldwide, an Order Management System can handle any volume of orders. All a retail brand needs is a compelling strategy. The system will provide the means to execute it, with the capacity to automate numerous processes, such as sales, payment, and order processing. You can opt for any one of the best multi-channel order management systems available in the market, considering the requirements and complexity of the processes involved.
Read how Businesses are growing with Unicommerce – How Marico Achieved 100X Growth in Sales & 99.9% + Order Fulfillment Rate?
3. OMS supports multi-channel operations
The OMS gathers and consolidates information from all points of sale, including online, in-store, and contact center transactions, into a single repository. OMS supports multi-channel sales, which will help you a lot. Some items may also accept orders from customers in various worldwide locations and various currencies.
4. Conversion rates
The OMS contributes to the improvement of the website's conversion rates. Better OMS results in better website administration since it facilitates the management of back-end activities more seamlessly. There is less possibility of making a mistake, which will result in higher conversion rates in the long run. Consequently, the money you invest in establishing the OMS for your e-commerce platform is affordable and will result in more income in the long term.
5. Sales support
It is possible to have product information and availability updated in real-time for both customers and staff, including those in the customer care department. Moreover, some of the technology providers also offer ERP and POS solutions along with the Order Management Software to facilitate the movement of orders seamlessly. Additionally, the OMS also supports customer refunds and exchanges through multiple sales channels.
6. Inventory management
The OMS incorporates inventory management algorithms that route orders to the most suitable warehouses and determine the most cost-effective shipping choices. This allows for more efficient administration and monitoring of stock levels. An order management system (OMS) offers data utilized throughout the inventory management and fulfillment phases, including picking, packing, shipping, and tracking operations.
7. Accounting integration
Because the data from the OMS is automatically transferred into your accounting system's general ledger and subsidiary journals, such as accounts receivable and accounts payable, there is no need to input information or transfer it via a separate procedure.
8. No Errors
An OMS centralises not only order-related data but also reduces human errors. It automates order fulfillment and inventory management across several retail channels. It thereby shares the exact order details with fulfillment teams in a matter of seconds, allowing them to pick, pack, and dispatch the requested item on the scheduled time. Similarly, the system guarantees that inventory is consistent across all selling channels, ensuring that customers do not order out of stock.
9. Attract more visitors
Developers pay attention to search engine optimization for website design. Old-fashioned websites lose customer confidence, and the customers never buy anything. Experts implement the right tactics to optimize the site from an SEO perspective. Professionals guide you to ensure that you gain maximum benefit from an e-commerce Order Management System. Designers perform different tasks like speed optimization, keyword research, link-building strategy, and enhanced design. You can access the OMS with the ideal easy-to-use and outstanding design mixture. With an elegant website design and the support of an OMS, business owners can discover a significant improvement in sales.
10. Boost overall impression of the brand
A well-designed e-commerce Order Management System is important for business owners to increase the overall impression of the brand and its visibility. People will never go for a brand with a negative image in the marketplace. People consider the reviews before they decide to invest in a product. An OMS rightly assists businesses in increasing brand awareness in the online landscape.
The suitable OMS can enable you to build a huge customer base quickly, provided you also offer a high-quality and smooth mobile app experience to the users. Furthermore, visitors often search for information about a product by using keywords. Hence, online shop owners must focus on utilizing the right keywords in content and optimizing the content for the potential audience. As search engines index more web pages and boost the placement of your pages, the website soon gains more traffic and visibility, which makes customers familiar with the brand. The customers would then share their brand experience with other people through Multi-Channel Ecommerce Integration, which would again boost the brand's overall impression. 
Summing it up
E-commerce Order Management Systems are widely used by millions of businesses worldwide. With the help of a suitable OMS, you can also provide a smooth shopping experience to your users and take the first step toward ensuring that they remember your brand.
Schedule a FREE demo with Unicommerce's Order Management consultants.
Related Read: